Talent Cultivation and Development
● Strategy:Accumulate talent strengths, optimize the job rotation heritage.
Goals of 2030:
● Training hour per staff up to 48 hours/year
● Establish a key personnel talent pool and plan the talent
development roadmap
10-Year Sustainability Talents Plan for Transformation towards Low-
Carbon Operations
Upholding the corporate education philosophy of "accumulate talent strengths," we actively transform into a multifaceted and inclusive learning organization to develop sustainability talents. We set 48 hours of education and training per employee, empowerment of 300 internal instructors, and realization of young management by 2030 as the targets to systematically implement ESG competency education and develop multifaceted international talents through job rotation in response to the increase in overseas business locations.
In 2020 we introduced the 10-Year Talents Empowerment Plan to respond to the group's implementation of the smart low-carbon paper plan in 2019. Based on the position and grade, contents were divided into fundamental competencies and professional competencies, focusing on technology and engineering, ESG governance, digital technology, crisis management, international languages, and digital talents management and evaluation system to promote total competence upgrading of employees through top-down implementation. In response to the trend in different fields, apart from dynamically setting targets and developing course contents for internal training and establishing long-term management and talents development plans for key positions, we also actively implement industry–academia collaboration, internship, and interdisciplinary programs, and run an internal academy to develop a steady sustainable talent pool for CLC and traditional industries. Additionally, aiming to become "Asia's new low-carbon and green energy paper company," we also joined the "TALENT, in Taiwan."
Establish own responsible units, to draw up training strategies and targets
Enhance training for key talents in response to the low-carbon operations transformation and group globalization. We developed the CLC organization benchmark learning system, established responsible training units, and built the business and industry key talents pool to continuously enrich multifaceted training resources.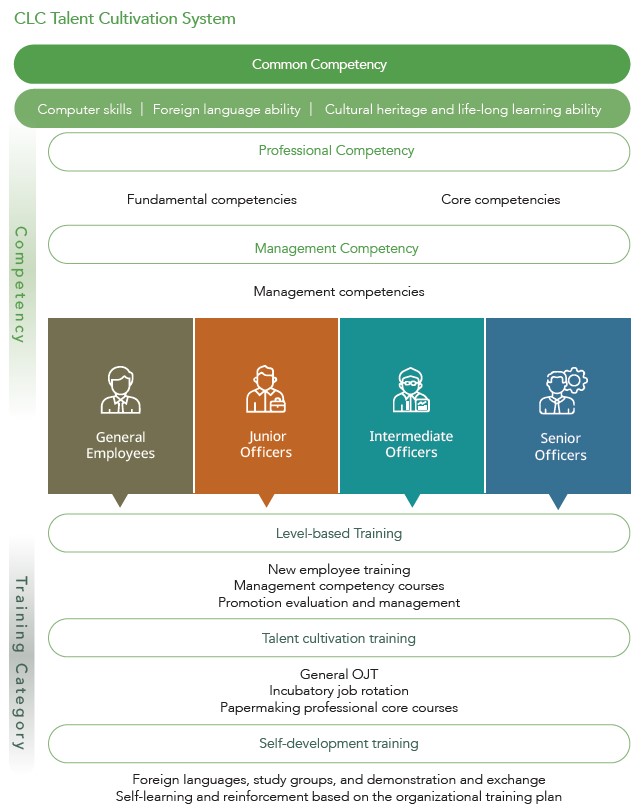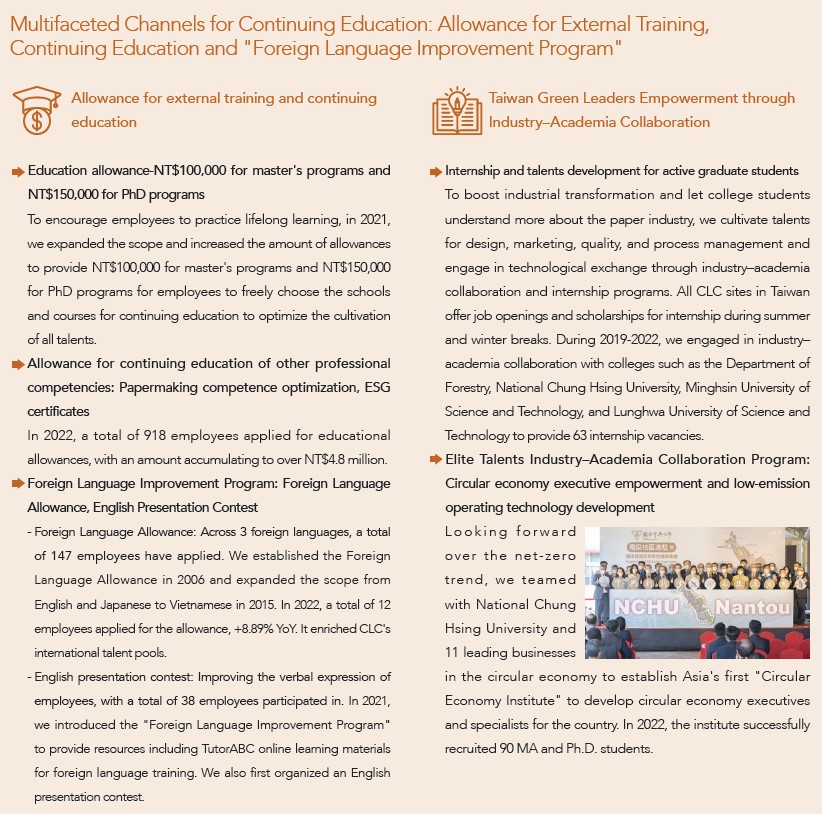 The per person training hour was 56.0 hours (+10.8 hours YoY)
Set the minimum hours of learning for required professional training and training as time off in lieu to encourage employees to enrich professional competencies adaptively. In 2022, the annual employee education/training was 206,132 hours (including E-Learning), and the per person training hour was 56.0 hours (+10.8 hours vs LY) in Taiwan area; the annual employee education/training was 98,054 hours overseas.