Product Responsibility and Customer Service
● Strategy:Based on the recyclability of paper products, implement green design and green production at different stages of product life-cycle to reduce environmental impact; maintain customer privacy; fulfill product and supplier responsibility.
● Goal of 2030:Customer Satisfaction up to 88 marks
To support the government and follow the international trend, we have been using recovered paper as the major production material. Besides saving trees (about 34.4 million trees in 2020), this helps reduce CO2 emissions, making CLC a model of the circular economy. As a manufacturer of paper products, we are committed to purchasing FSC™ pulps (up to 89.5% of all virgin pulp in 2020) to protect forests and promote environmental sustainability.

▸ In 2020, we used about 1.72 million MT of recovered paper, accounting for 92.0% of all raw materials. Two-thirds of recovered paper was purchased locally from Taiwan to effectively promote paper recovery and recycling in Taiwan.
▸ In 2020, we used up to 95.4% of recycled materials in our mills. Raw materials consumption totaled 1.868 million MT including domestic recovered paper of about 1.131 million MT, overseas recovered paper of about 0.587 million MT, virgin pulp of about 0.15 million MT, and other plant materials, such as starch and tapioca; and about 0.085 million MT of non-recycled materials, such as chemicals for papermaking.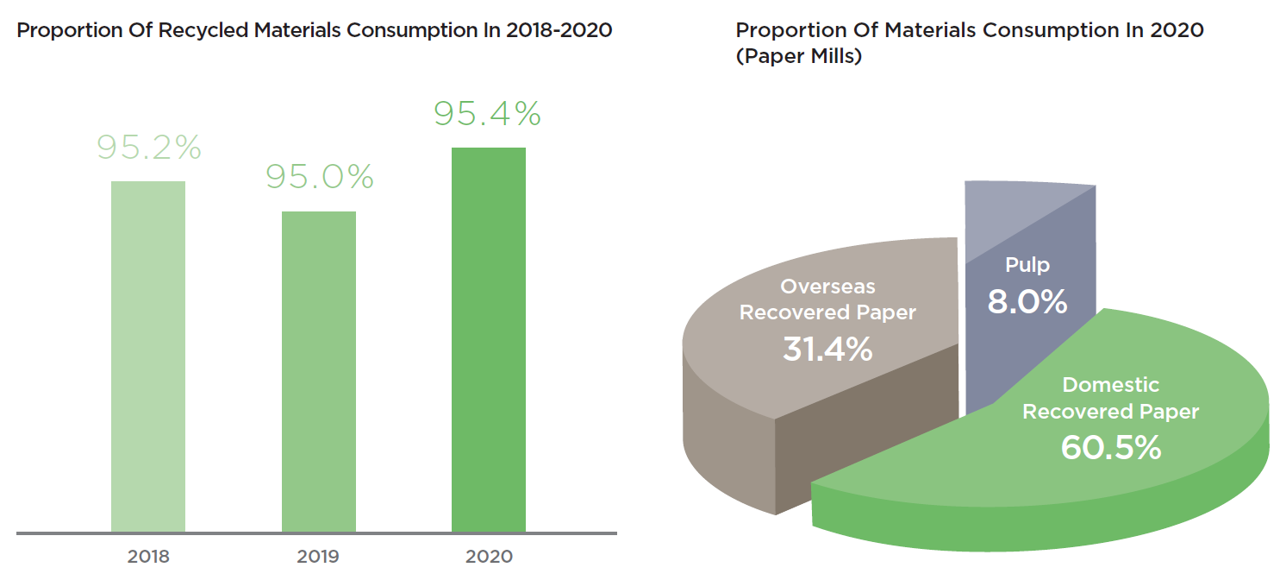 Multifaceted services through vertical integration
We offer a wide variety of products and serve customers worldwide. To fulfill customer demands and create and add value for customers, we fully demonstrate the effectiveness of research and development and the synergy of production-sale integration that integrates papermaking with converting through vertical integration. To improve our service for customers, we implement the "Total Packaging Solutions" to shorten delivery time and provide customers with prompt and reliable services.
Strict quality control and proper addressing of customer complaints
We value customer comments. Therefore, we have established a quality control (QC) unit equipped with dedicated staff to implement quality management and address customer complaints. Upholding CLC quality policy: total participation, quality management, and customer satisfaction, we aim to improve customer satisfaction. We also actively visit customers to discover their needs. The coated duplex board unit even appoints "quality service staff" with professional printing knowledge in its customer complaint team to handle customer complaints and assist them on resolving printing and processing problems in order to efficiently settle all customer complaints. The household product department has set up a toll-free consumer helpline to answer consumer enquiries and serve consumers enthusiastically. When customers report quality problems, the QC unit will immediately issue the "Customer Complaint Recurrence Elimination Form" for the responsible unit to take action to resolve the problem and QC staff to verify the effectiveness of improvement, in order to prevent recurrence. In 2020, the Container Box Division implemented the e-quality anomaly order system in Q1 and the additional functions including the supplementation of work order and loss registration in Q3 to optimize the system.
Customer Satisfaction
We conduct a customer satisfaction survey every year and implement countermeasures or items with a lower score. In 2020, the customer satisfaction score increased by 0.3 from 85.7 of 2019 to 86.0. In average customer complaint rate, except for industrial paper, the customer complaint rate of household tissue, paper products, and container boxes also increased compared to 2019. We have actively reviewed the causes and take corrective action to improve customer service in all aspects.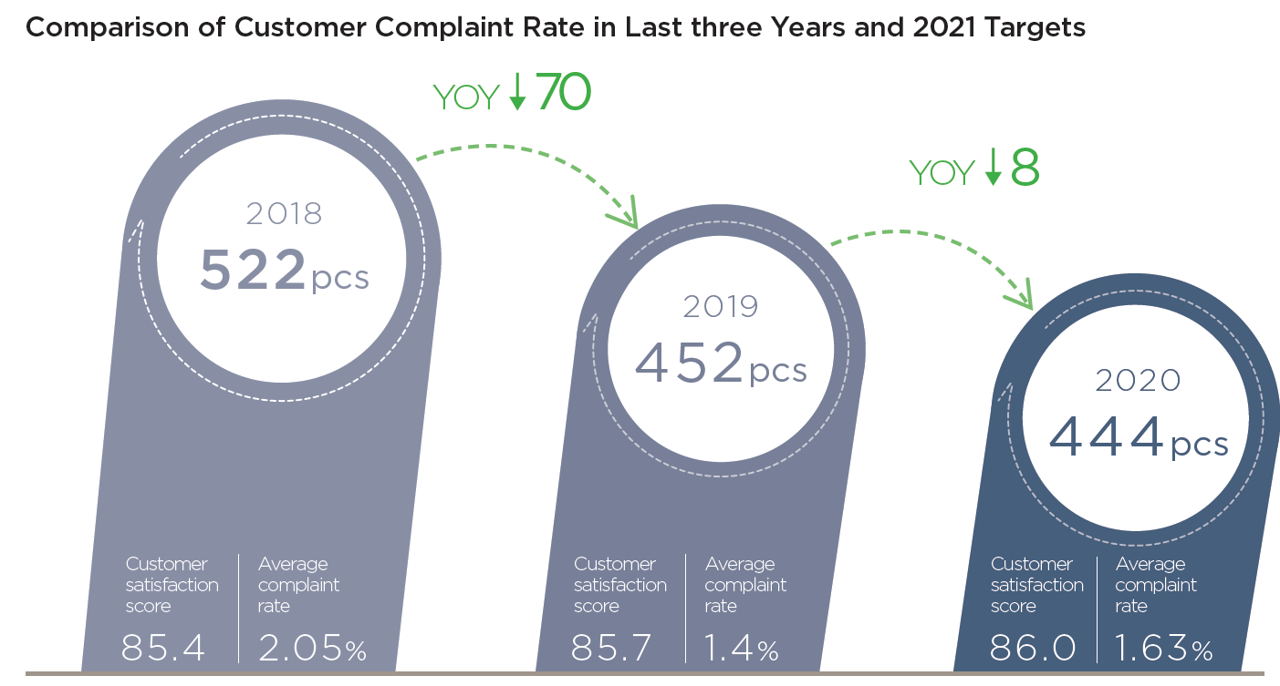 Excellent suppliers in CSR evaluation
As a long-term partner of world-leading brands, many customers are CSR leaders who request us to implement CSR management with standards higher than the legal and industry requirements. The management includes labor practices, human rights, occupational health and safety, environmental, product innovation, education and training, supplier management and audits. After continuous efforts, our performance has earned the recognition of brand customers who gave us critical acclaim through different evaluation supplier rating systems.
Periodic examinations for product safety
At CLC, product quality and product safety are equally exceptionally important. Therefore, we send products to impartial inspection agencies (e.g. SGS) to test for the content of hazardous substances every year to ensure all products comply with all legal requirements. We also inform customers of our examination results to assure that CLC products have no threat to safety and thereby fulfill our corporate responsibility. Chubei Mill producing household papers implements the ISO 22000/HACCP management system to provide consumers with safe products. Products are also sent to impartial inspection agencies to test the total plate count, E. coli count, and migration of fluorescent whitening agents to ensure compliance with all legal requirements. All household paper products from Chubei Mill, including paper towels, table napkins, toilet papers, facial tissues, and kitchen papers have passed Taiwan CNS Mark certification and are approved by BSMI every year, product quality and labeling also comply with the CNS requirements. In 2020, no non-compliance with quality specifications and labeling was report in products made and sold by CLC.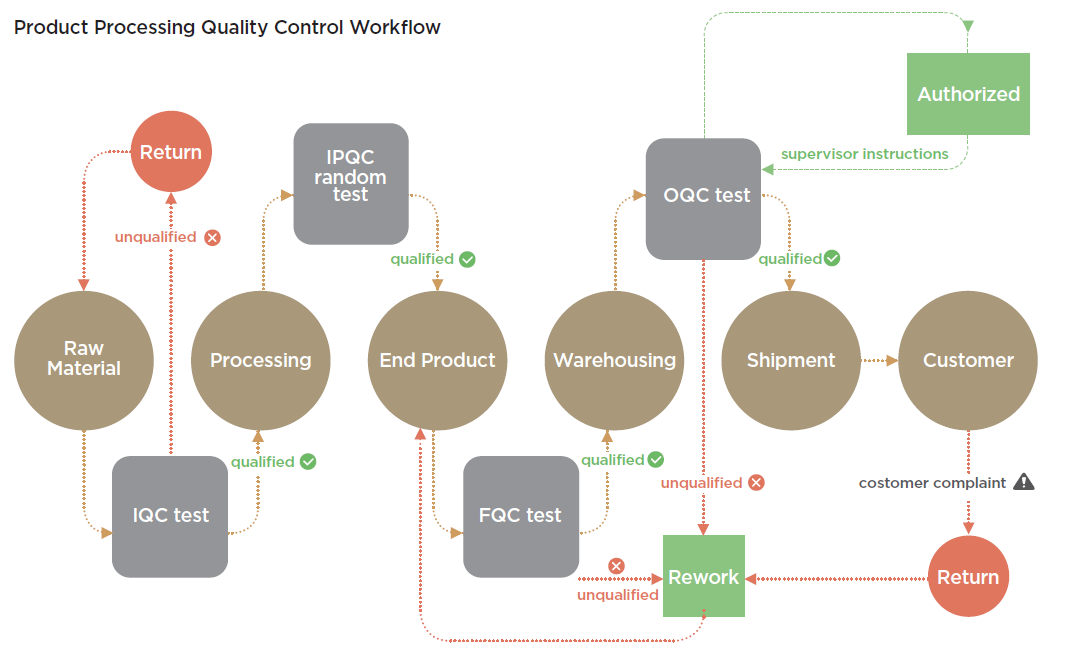 Inspection specifications of industrial paper
Every year we send products to the SGS laboratory to test for the content of hazardous substances according to the EU testing items and specifications, such as the EU's REACH, SVHC, and RoHS of the EU; Sony's Environment-related Substances to be Controlled (SS-00259); halogen content specifications; and the EU Standard EN 71-3 heavy metal safety requirements for toys. In 2020, CLC products passed all regulatory requirements and conformed to customer requirements. As the REACH (SVHC) testing items have increased from 16 to 211 items over the years, in consideration of the inspection efficiency and customer demands, we adopted the Full Material Declaration (FMD) management-at-the-source model in 2021 to replace finished product inspection reports. Besides reducing resource wastage, the FMD better fits the internal control of hazardous substances.


Plate-making for Reduce and Reuse
With sustainability, environmental protection, and waste reduction as the targets, the CLC Collaborative Technology Center makes recyclable and reusable plates. To achieve paperless operation and paper and ink reduction, the preprinting group provides the sales unit and customers with electronic color drafts for confirmation. In addition, electronic file matching is also adopted on printing presses to reduce color printing over 13,000 A4 sheets a year and also ink consumption, which is eco-friendlier than traditional color draft confirmation. While traditional film output needs to use developers and fixers which contain heavy metals and toxic chemical substances that require disposal by qualified service providers, we purchased the EPSON film inkjet printer in 2019 to replace traditional film output with inkjet printing to gradually reduce film uses. It is estimated that a total of 10% waste chemical liquids will be reduce each year.
In addition, while solid plate-making produces waste resin that requires recovery and incineration by professional service providers, the annual output of waste resin is about 9MT a year. To reduce waste resin from solid plate-making to achieve waste reduction and recycling, we have specifically imported the "liquid plate casting machine" to replace solid plate making. As unhardened liquid resin is reusable, the recycling of 1MT of liquid resin is equivalent to reduce the production of 1MT of waste resin.

✔ Replace traditional films with inkjet films by 10%
✔ Replace solid plate-making with liquid plate-making by 5%

FSC™ CoC certification
Most products manufactured by CLC mills and plants have passed FSC™ CoC certification (License Codes FSC-C005063 and FSC-C104390). We use only FSC™-certified wood pulp to contribute our part to forest protection.

Protection of Customer Privacy
To ensure the security of customer data, we have established related mechanisms to protect and manage customer data, including strengthening and education on "customer data" and "information security" and request employee to uphold the non-disclosure agreement in business activities. The Form and Packaging Materials Division has established a complete information security management procedure to ensure information security. Since beginning of 2016 to the end of 2020, passing ISO 27001 certification for the information security management system, no incident relating to information security has been reported, and no complaint about customer privacy infringement or customer data loss was reported.