Sustainable Products and Development
● Strategy:Constantly develop green products and services with a resource recycling business model to enhance the efficiency of the circular economy; fully promote digital transformation to enhance production efficiency, improve customer service, and maximize energy efficiency.
The pursuit of low-carbon and sustainability are the global goals. Consumers are more concerned about environmental issues, and global branded products are replacing eco-unfriendly packaging materials with paper. As a leading papermaker, CLC constantly introduces new processes and equipment for production process reengineering, develops various sustainable products and services, and engages developing a sustainable business model with the circular economy to make social and environmental contributions while capturing greater opportunities to thrive corporate development.

Recyclable resources are the major materials of paper products. Products can be recycled after the use to reduce environmental impact. Based on this green, sustainable niche, CLC specializes in developing products that are eco-friendly at all stages of product life cycle. In 2020, CLC produced different types of paper products that are indispensable to consumer and industrial packaging with 1.72 million MT of recovered paper. The recovered paper utilization rate was up to 92.0%, of which the utilization rate in the sector of industrial packaging was even up to 97%.
 
R&D and Innovation
Out of the emphasis on innovation and R&D, CLC invests over 100 million NTD in the development of green and sustainable products and the optimization of production processes every year to enhance production efficiency, conserve energy, and reduce carbon emissions, in order to actively keep up with the global trends and customer demands, furthermore, to enhance corporate competitiveness. In 2020, the total R&D expenditure (excluding capital expenditure and equipment fee) was NT$104 million, and the major R&D outcomes are as follows:

✔ Nearly 20 major projects for domestic and overseas expansion, reengineering, and technology development, including introducing the first world-class pre-printing system in Vietnam.
✔ Introduced new raw materials to enhance production efficiency: Saved > NT$21 million annual.
✔ Process optimization and quality improvement saved costs > NT$36 million every year.
✔ New product development: Electronic carrier-tape paper, high waterproof multiple paper boxes, adhesive-tape-free cartons for online shopping, eco-friendly household detergents, alcohol wipes, and glue-coating-free eco-friendly corrugated board.
✔ Awarded patents for non-fluorinated grease resistant paper, cartons, and sheet paper, kit container boards, and others.

In the future, based on the market demand and the corporate development needs, CLC will constantly engage in domestic and overseas expansion, introduce new processes to optimize production efficiency, and develop new products through energy conservation, carbon reduction, energy and resource integration, and equipment reengineering to enhance capacity and maintain competitive strengths to raise innovation and circulation value.
Development of Green and Sustainable Packaging Products
In new product development, acquiring legal and eco-friendly raw materials is the rule and fundamental principle of CLC. In consideration of product life-cycle , we ceaselessly combine the design practice and demand for green packaging materials in product packaging design. Through collaboration among internal departments, we develop various sustainable, low-carbon products and demonstrate our fruitful results through various cases to contribute to environmental sustainability, cultivate green, circular business opportunities, fully demonstrate technology R&D capacity, and provide value added service.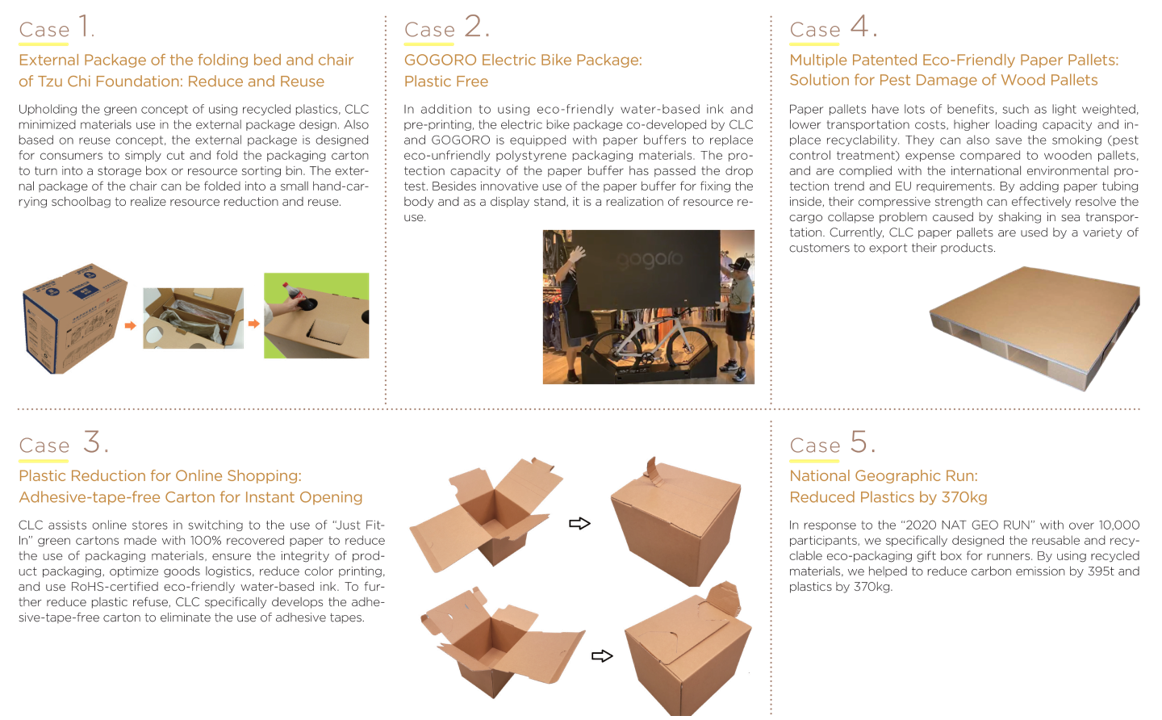 ❙ Green and Innovative Products Helps Consumers to Reduce Carbon Footprint
In response to the green consumption trend, besides developing green packaging papers for industrial use, CLC also invents circular & low-carbon products in consumer categories. With professional, esthetic structure design expertise, we introduced the "Paper Studio" brand in 2013 to develop edutaining, zero-pollution paper furniture and educational toys for children, pet toys, and cultural and creative products with recycled corrugated paper. In view of the non-recyclability of most materials used in trade fairs and exhibitions, we develop green exhibition sites using corrugated boards with the structural features and recyclability. The outcomes are showcased in excellent circular venues, such as: "CLC paper library", the "Box War" over the years, and customer anniversary souvenirs to demonstrate the sturdiness and flexibility of paper. In addition, digital technology is applied to accurately calculate paper consumption and reduce construction errors to largely reduce paper materials and manual assembly work to meet the design thinking of circulatory economy at the origin.



❙ CLC Household Product
Pamper your loved ones with love and tenderness
In 1993 CLC entered Taiwan's household paper market and launched the "Andante" brand in 1995. With soft quality, delicate texture, and the "pamper your loved ones with love and tenderness" image, Andante has won consumer preference. After acquiring Tien Loong Paper Mill in 2004, CLC continued to launch two quality brands, Lover and Snow Soft, to complete the household product range with toilet paper, facial tissue, kitchen paper, and paper towel, making CLC the leader of household paper supplier in Taiwan.

Through constant process optimization, introduction of new technology and advanced equipment, including Taiwan's first automated household tissue warehouse, Asia's first millions MT wind turbine, and implementation of digital transformation, Chupei Mill engaged in energy conservation, carbon reduction, development of low-carbon products, and improvement of customer services. In recent years, we have also actively cultivated differentiated value-added product portfolio and engaged in personal and household cleaning & sanitation products. In response to epidemic control in 2020, besides specifically launching the "Andante Alcohol Wipes" to help improve personal sanitation, Andante also engaged in the development of wipes and paper protective gowns using specialty base paper to replace eco-unfriendly non-woven fabrics to provide consumers with greener and diversified products and services.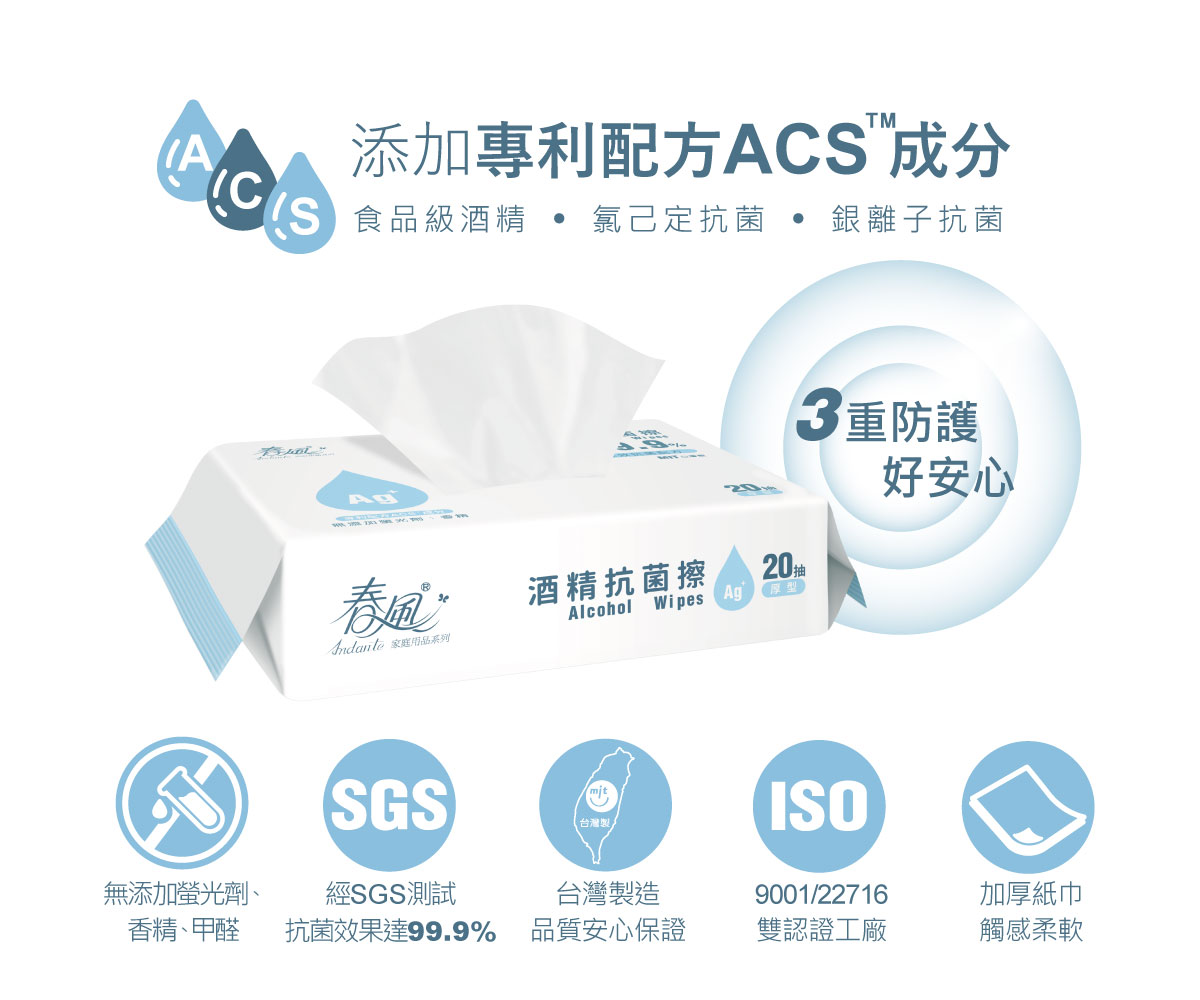 ❙ Use recovered paper for a virtuous cycle
Dandelion household tissue " Keeping the Nature with habit change"
Dump after use: Toilet tissue – a single-use product. To practice responsible production and promote green, responsible consumption, besides making household tissue with FSC™ pulp, we produce eco-toilet tissue with a process that is more complicated than products using virgin pulp, in order to maximize resource utilization and putting environmental interests first. In 2009, we launched the "Dandelion Household Tissue" series with quality similar to those made with virgin pulp to encourage consumers to practice environmental protection and love Earth from daily life.

Made of 100% recovered paper and using clean energy – wind power, the Dandelion Household Tissue is thus Taiwan's first household paper brand to acquire triple certification: The Green Mark, Carbon Footprint Label, and Carbon Reduction Label. Currently, the annual sales of Dandelion Household Paper exceed 5,000MT, making it Taiwan's No. 1 brand of eco-household paper. We also introduced the Dandelion multipurpose bag to combine the external package of Dandelion Household Tissue with the dedicated garbage bag to create carbon reduction efficiency ahead of competitors.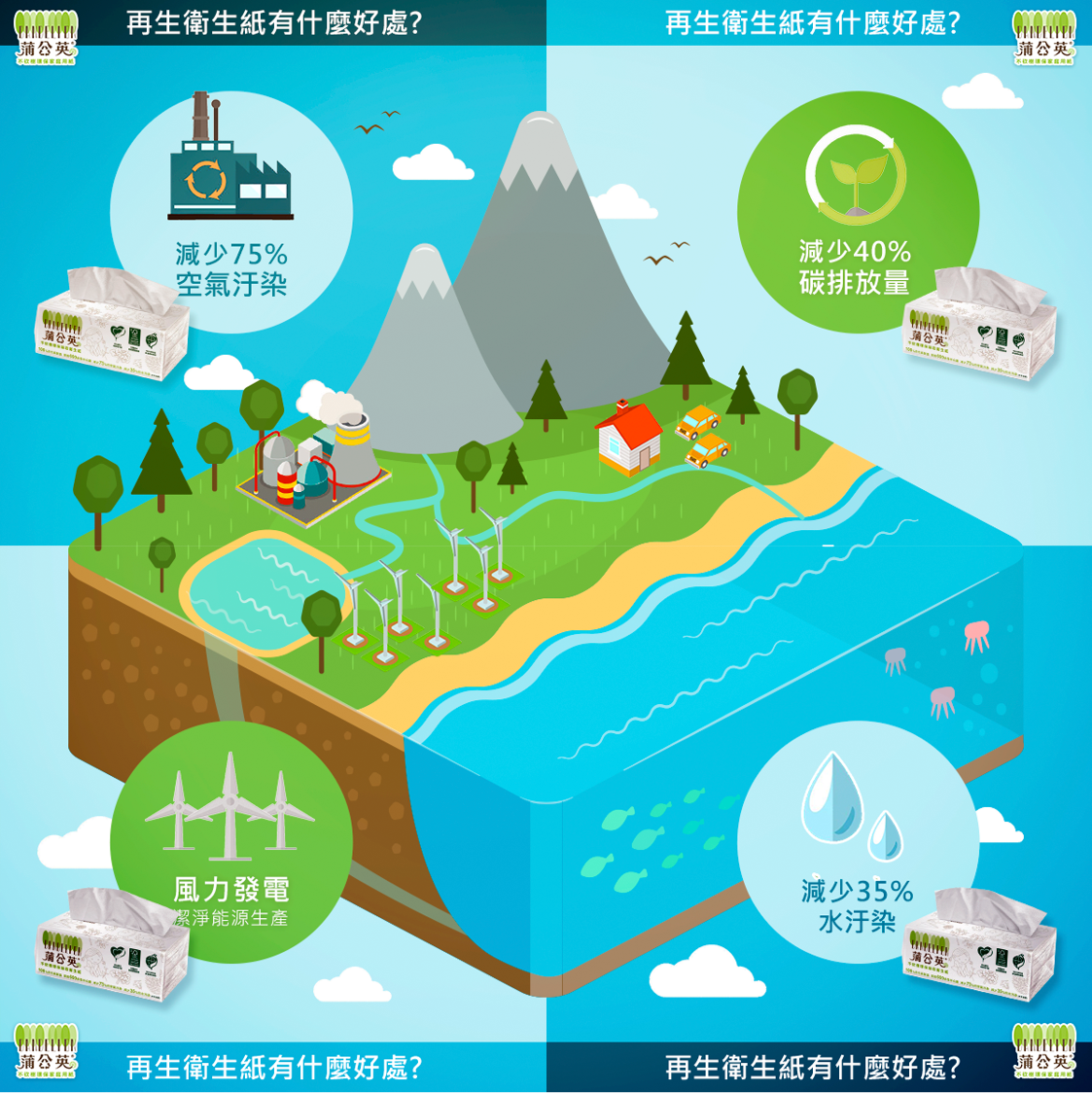 We constantly invest resources in marketing and cultivating sales channels. In 2018, we introduced CLC's second eco household tissue brand: Pure Generation. We also actively develop a series of eco household products with distributors and brand customers. In 2020, we further introduced the Dandelion Eco-Household Detergent to provide consumers with more options for green products to contribute to the Earth's sustainable development.
Driving Innovation and Value Addition
❙ Enhancing competitiveness with the excellent cases management system
To improve corporate competitive strengths and drive operational performance with innovation, CLC organizes the "Excellent Case Improvement Activity" every year to review the effectiveness of activities under continual improvement with tools including the quality control circle (QCC) and total production management (TPM). We encourage employees to actively discover and solve problems based on the macro environment change, customer feedback, and annual policies and objectives through the annual competitions, in order to stimulate the optimization, problem-solving, and innovation capabilities of employees. We have also established the Case Management and Sharing Platform to facilitate experience inheritance, in order to develop competitiveness in process optimization, technology development, green energy & innovation, and customer service through cross-organization exchange and learning. In 2020, we stimulated nearly 1,000 cases of different scales to bring the improvement and innovation efficiency worth over NT$100 million.

❙ Smart Paper 4.0
After years of development, papermaking has become a highly standardized and automated industry. To create new niche, synergy, and service quality with the industrial IoT, CLC has been actively planning smart papermaking to realize low-carbon, energy-efficiency, green production and marketing and improve customer service by integrating big data with production, marketing, and logistics. Thereby, we enable further value upgrading of industrial value through digital transformation, in order to become the pioneer of smart papermaking development in Taiwan.

In papermaking, we implemented and completed 5 projects during 2019–2020. Through gathering data from on-site equipment sensors, we performed system monitoring, warning, and subsequent data mining and analysis to enhance the operating efficiency of paper machines and the cogeneration system to further enhance the efficiency of resource integration.

In 2021, we will implement industrial paper demand prediction to reflect the actual market demand to the production process and sales department to achieve production–marketing collaboration, in order to help reduce operating costs, enhance efficiency, timely fulfill customer demands, and significantly reduce unnecessary stock through digital transformation. We will also implement projects including the digital IPQC platform, household tissue CRM service system, and others to further integrate up-, mid-, and down-stream information for supply chain integration.
▶ Taiwan's first low-carbon, smart factory for box packaging.
In container box production, in response to the low subreplacement fertility and society aging, we actively introduce smart production-marketing to address the complex container box processing logistics. The new plant opened in 2021 in Yenchao Plant is equipped with smart warehousing for logistics information sharing. In addition, the automated guided vehicle system is employed to enhance shipping efficiency. In addition, information from equipment including the corrugated machines and printing presses is integrated for scheduling optimization and production performance enhancement through big data collection and analysis to accurately estimate production time. Together with the rooftop PV system, it is Taiwan's first lowcarbon, smart factory for box packaging.

▶ CLC Digital Management Evolution
"All digital technologies (AI, big data, cloud, IoT, 5G) are combined to assist with production (knowhow inheritance), implement monitoring and management (preventive warning), and engage in process optimization and performance enhancement."
→ Enhance total energy efficiency of the cogeneration system, optimization of paper machine operation, and optimization of production processes.
→ Equipment and instrument management, paper feeding disruption prediction and monitoring, equipment operating condition monitoring, automated system troubleshooting.
→ Integrate marketing, production, logistics to smart production-marketing, enhance shipping efficiency and customer satisfaction.