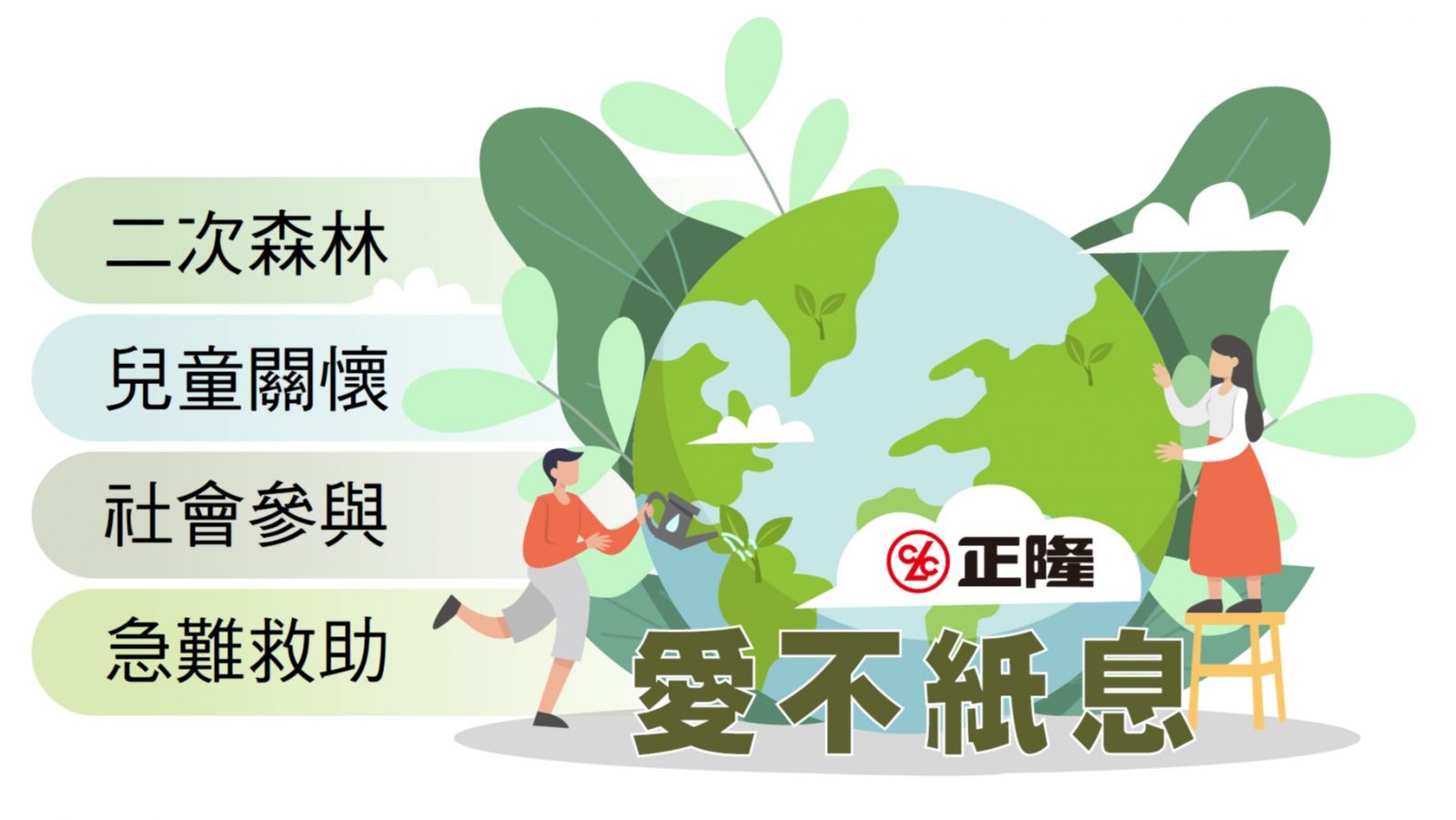 Society Inclusion
● Strategy: Based on the vision of "CLC: Love Paper & Love Earth," we integrated internal resources with "Cheng Huotien Charity Foundation" and "Cheng Loong Children's Care Foundation" to engage in social welfare in terms of four aspects: "Secondary Forest," "Care for Children," "Social Participation," and "Emergency Assistance."

● Goals of 2030: Invest in social welfare > NT$10 million, Establishing a demonstration site for the circular economy, Complete a total of 40 paper libraries
Secondary Forest
Education of Secondary Forest, CLC builds the green inclusive future
►Complete a total of 40 paper libraries by 2030.
Every sheet of paper is the extension of the tree. Recycled paper can create the Secondary Forest and let the resource circulation. Knowing that the basic education is the driving force for the advancement of society, CLC has built "paper libraries" combining with the key competency in Taiwan since 2014, echoing the sustainable development vision of the United Nations SDGs 4 Quality Education. In addition, we created the "Paper Library" for elementary schools in remote townships with recovered paper and design resources. Besides enabling schoolchildren to touch paper and understand the importance of forest conservation and environmental protection, the library also resolved the book resource shortage in remote townships to stimulate the learning interest of children and get together to build the green inclusive future.
Foreseeing the changes in macroenvironmental trends, we engaged in the earliest paper library, the education for youths, made the industry–academia collaboration, opened plant/mill visits. Since 2020, we have started the Paper Library 2.0 upgrade project. CLC cooperated with various shareholders to build the Paper Library, designed sustainable teaching tools, and held sustainable teacher training camps, and so on. Additionally, we promoted the sustainable value of secondary forests through various innovative actions to plant more seeds of circulation in society.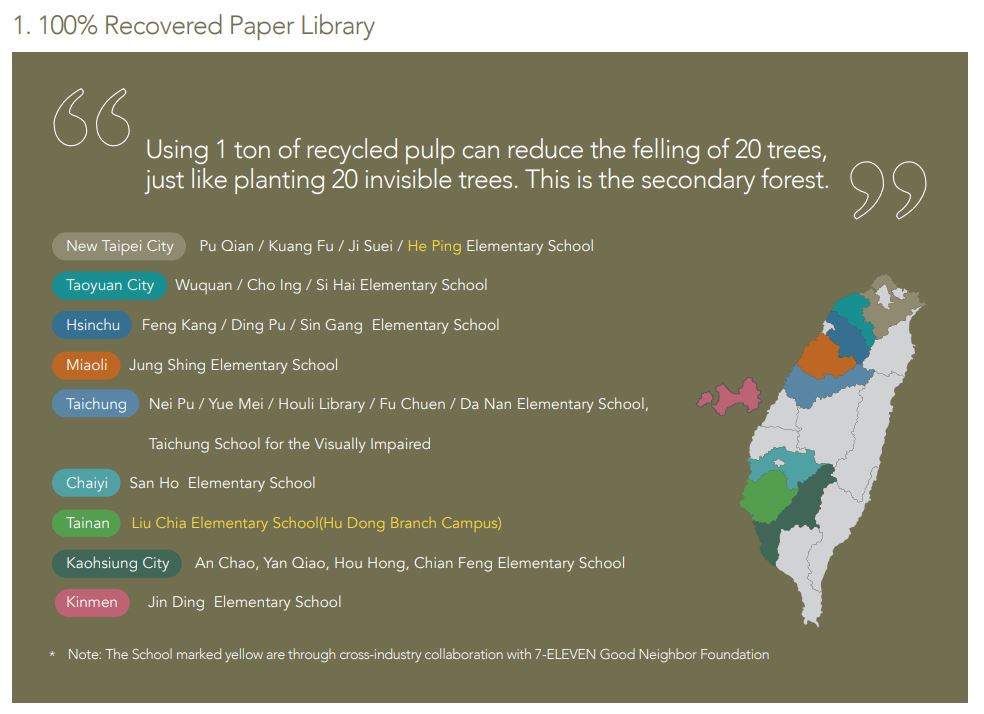 CLC has built "paper libraries" in Taiwan since 2014 to promote the secondary forest education. CLC has built at least 2 paper libraries every year and has set a goal of building 40 paper libraries by 2030. Additionally, we revisited the conditions of the paper libraries periodically to maintain and upgrade the facilities. Recently CLC even cooperated with various sustainable partners. A total of 25 libraries were established till 2022 including the cities in Taiwan and off-shore island Kinmen, benefiting more than 16,800 children, donating more than 6,300 good books. CLC also revisited 3 paper libraries and tracked the usage of the facilities.
To facilitate the seed of sustainability and circulation engraining in Taiwan, CLC Paper libraries Case was awarded the 2023 6th Asia Pacific Chinese PR Awards achievement from Taiwan/Taipei International Public Relations Association (TIPRA).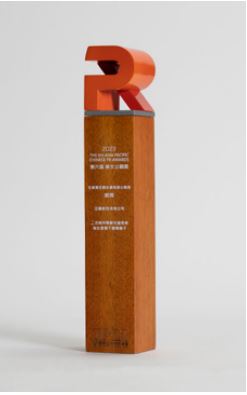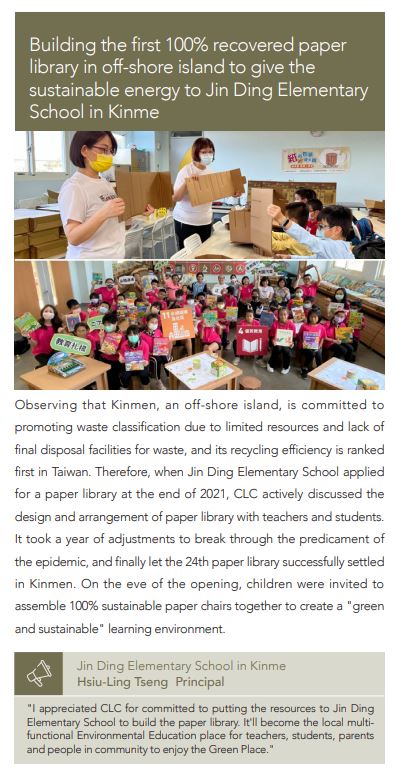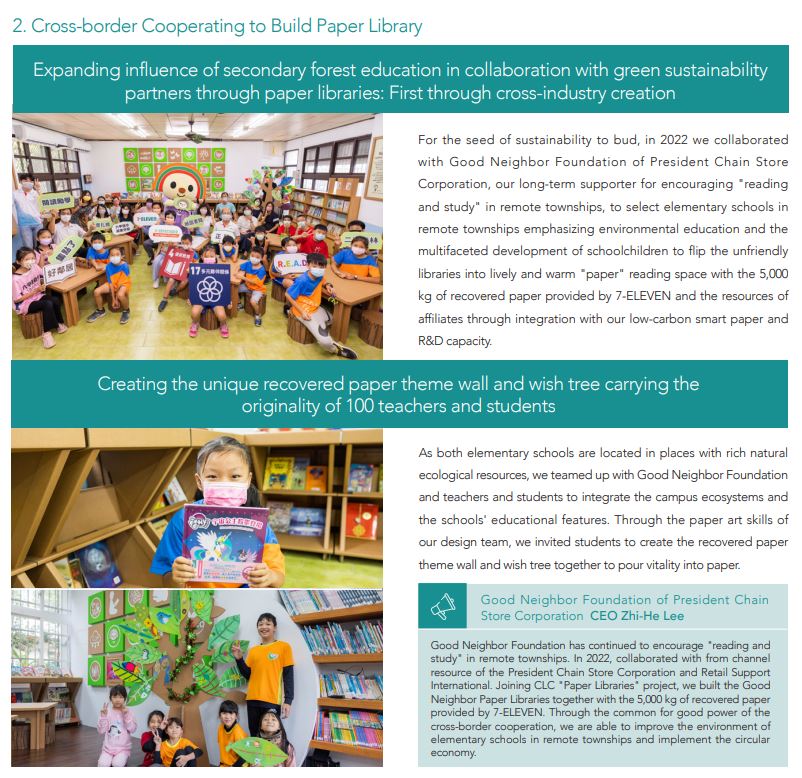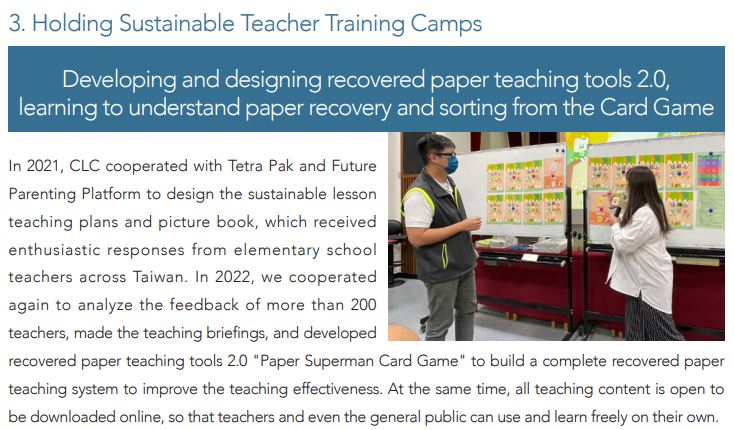 Paper Circulation and Recycling "Teaching Tools: https://drive.google.com/drive/folders/1fdEztTXJgT5jBbeFt-tRUOxe9Uhe1nRo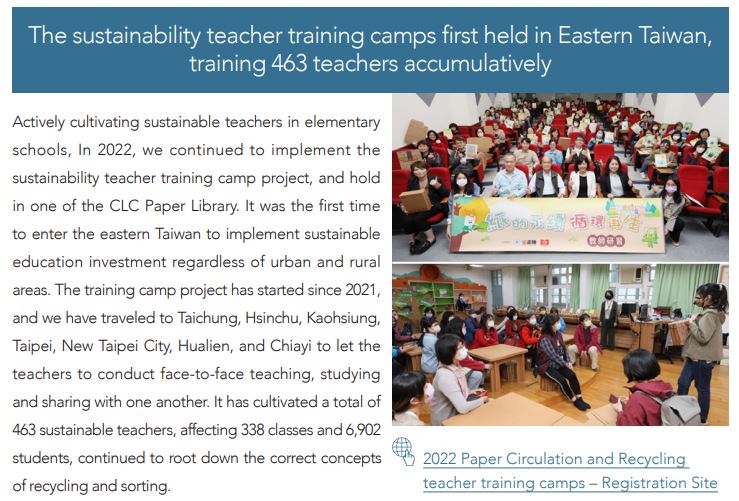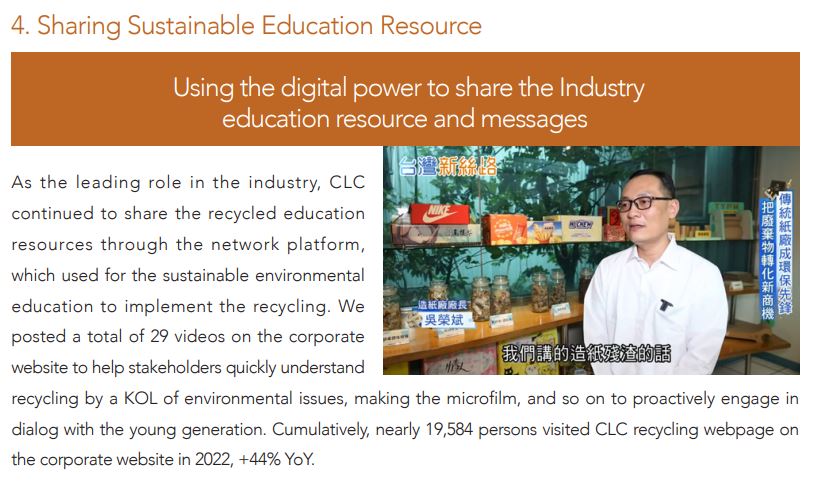 CLC recycling website - Love Paper, Love Earth:https://www.clc.com.tw/activity
CLC "Paper Circulation and Recycling" Education Performance: https://www.clc.com.tw/society?i=42

We established the "Cheng Loong Children's Care Foundation" and "Cheng Huotien Charity Foundation" to care for the vulnerable in society and invested over NT$124.71 million for society.
We committed to donate over NT$10 million every year for charity to establish diverse society and enhance benefit of public. In 2022, two foundation and CLC invested NT$14.21 million and the allocation were as follows:


CLC Foundation Annual Donation Details/Budget/Account: https://drive.google.com/drive/u/1/folders/11lf7au0_KqwvkF6Y8KlOjCMr4wFkpWyf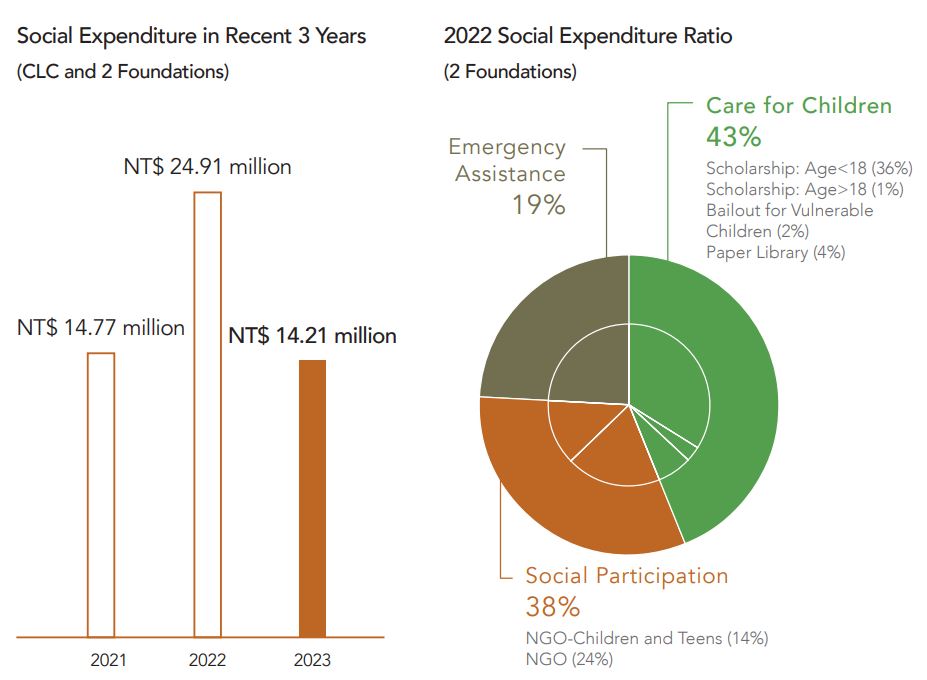 By transplanting the Taiwan experience, the Vietnam business group established the "Vietnam Business Group Charity Promotion System" in 2022 to actively engage with social welfare. Additionally, it also founded the elementary school scholarships to provide financial aid to seniors living in poverty and orphans in local communities. In 2022, it distributed elementary school scholarships to 90 persons and red envelopes and gifts to 120 elderly or disabled persons at Spring Festival to actively practice social engagement, earning the recognition of the local government.