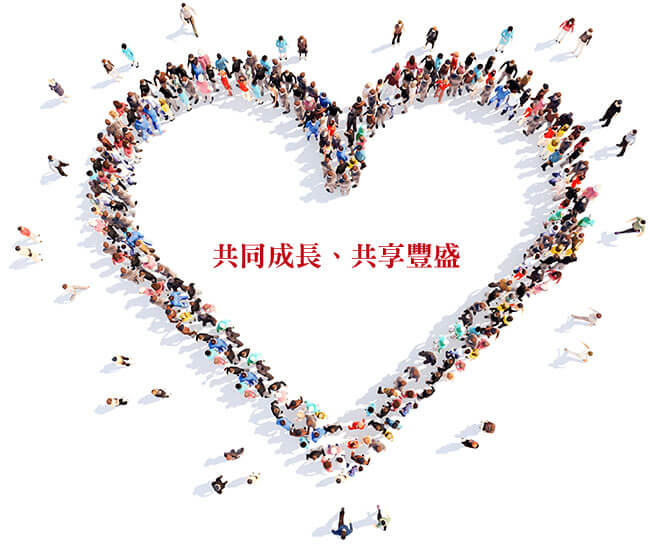 Friendly Workplace
We value our commitment to employees,
by building a happy and healthy workplace, and creating a challenging work environment
suitable for sustainable learning, to grow together with our people.
Diversity and Equal Opportunity
● Strategy: Provide competitive salaries and sound benefits to attract outstanding and diversifiedtalents, and realize workplace equality.
Goals of 2030:
● Raise the average employee salary by 10% vs 2020.
●Diversify employee benefits
●Cultivate young management
Human Resources Strategy
Talents are the most important asset to CLC. In response to domestic and overseas expansion and the need for sustainable development, we attract excellent talents to join the CLC with a competitive remuneration system. With "sincerity and trustworthiness" as the highest guidance, we cultivate partners who recognize with our corporate culture, vision, and core value to work for CLC's mission.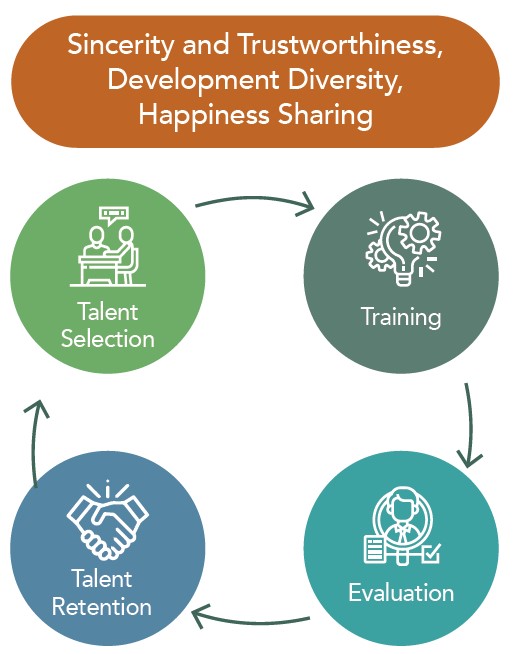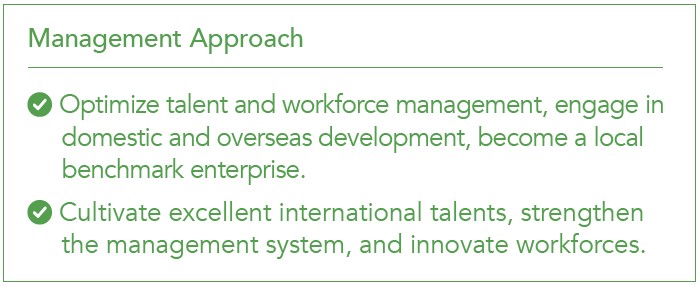 Employees are key to the success of corporate sustainability and one of important stakeholders. To align with SDG 8: "Decent Work and Economic Growth", from the viewpoint of long-term talent development, we iscern the positioning of the salary and workforce markets and combine with the medium- and long-term strategies for business development and operational performance to make constant adjustment of wages and benefits, listen to the needs of employees, and optimize the welfare system, hoping to effectively retain talents through sharing.
Enhance female power, the proportion of female employees increased to 13% in Taiwan and 22.3% for Whole group
By the end of 2022, the number of employees across major operation base (Taiwan, China and Vietnam) were 6,715 persons, increasing 334 persons. For Taiwan district, there are 3,739 employees, including 2,905 labor staff, 688 management staff, and 146 senior officers* hired 100% from Taiwan. The overall number of employees increased 49 persons. Due to the characteristics of the paper industry, male employees are traditionally higher than female employees, however, more female staff are hired in the production, technology, R&D, and marketing departments in recent years. In 2022, the proportion of female employees increased by 0.3% to 13.0% in Taiwan, and 22.3% for Whole group. Despite the significant gap between male and female employees, we always put competence first in talent recruitment, employment, and development and maintain equality and fair treatment of employees regardless of nationality, gender, race, religion, color, age, sexual orientation, marriage, and political affiliation. Therefore, no discrimination was reported in 2022.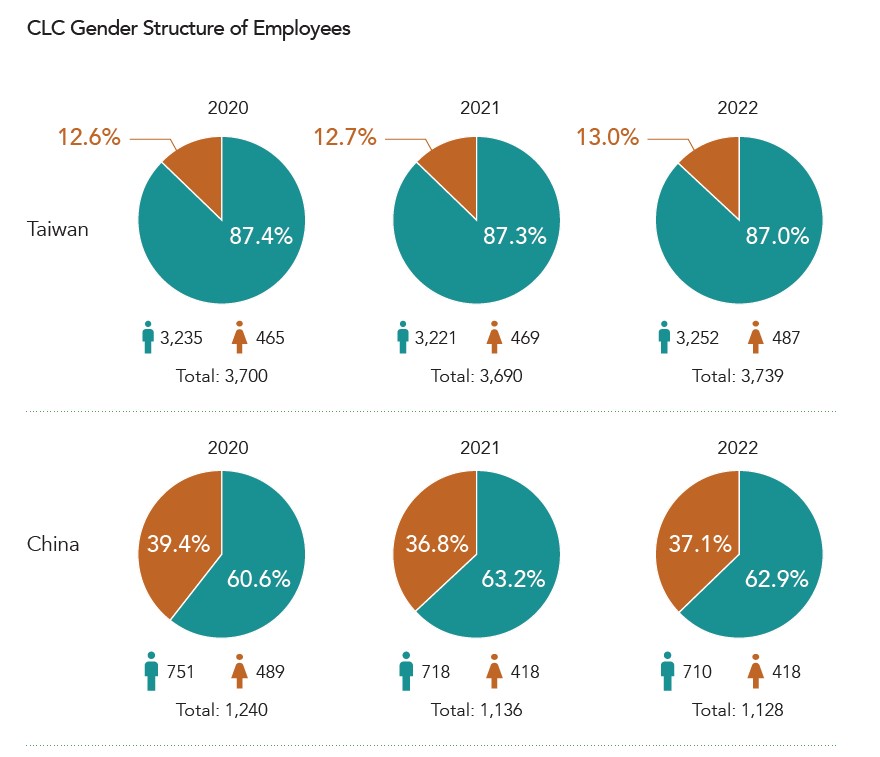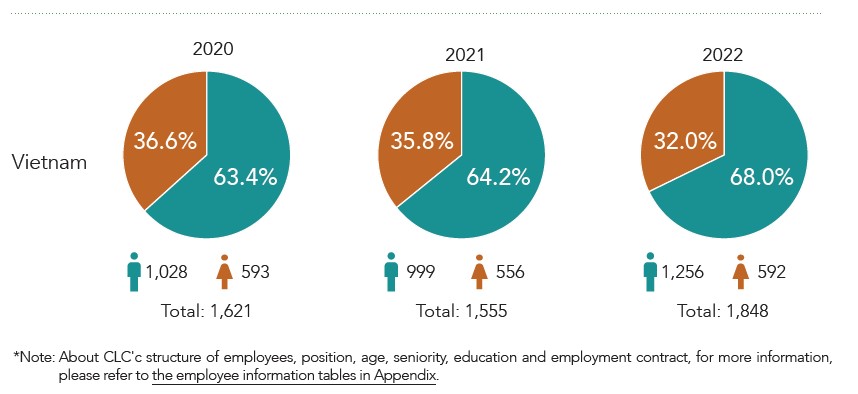 Value Human Rights and Development Diversity
"Through fair and open recruitment channels, all employees are entitled to equal
rights and benefits regardless of gender, race, and nationality, in order to protect basic human rights."
Human Rights
The Company's business bases in various places strictly abide by local labor regulations, are committed to protecting the basic human rights of all employees, and support and declare to the basic spirit of international conventions while formulating CLC's human rights policy in accordance with their guiding principles, so that all relevant people can be treated fairly and with dignity, including "tolerance of diversity and anti-discrimination, ban on child labor and prohibition of forced labor etc."

For employees to understand more about human rights, we enable employees to learn more about their rights and interests through internal EIP website, publications and the E-Learning system. The courses and reports included "Stalking Harassment Prevention Act", "Power and Rights". Value workplace equality, we held several courses and promoted project of friendly workplace, including to revise "Sexual Harassment Prevention Act". In addition, we held courses in 23 categories, 30 sessions to strengthen Taiwanese executive-level management competency and communication skills. CLC also set up a grievance mechanism for Sexual Harassment Prevention and Corruption. There are employee opinion email and communication channels. Besides, we provide channels for reporting unlawful or unethical behavior "Sincerity and Trustworthiness".
Equal Employment
We followed the "People with Disabilities Rights Protection Act", and "Indigenous Peoples Employment Rights Protection Act", and hired 41 persons with disabilities and 23 indigenous people. In order to promote multiple employment, we have set up the "Bonus for Indigenous Long-term Employment". In 2022, a total of 23 eligible colleagues have applied. Not only do we encourage the indigenous peoples to work in CLC, but also hope that employees can serve for a long time. In terms of workforce composition, most CLC employees are Taiwanese, and we prioritize employment for local residents at individual production bases. Besides creating local job opportunities and stimulating domestic economic development, this policy also helps stabilize workforce. To ensure the well function of production line, we only hire a small number of foreign workers for the vacancies (job openings) that cannot be filled by local citizens.

A Younger Workplace,13 % of female employees with seniority below 5 years have been promoted
As the paper industry is one of the traditional manufacturing industries dominating by male employees in the past, most members of the junior management are male, resulting in a ratio of about 10.9:1 in terms of male and female. There are 404 team or group leaders in Taiwan in 2022. For employees with seniority below 15 years, it takes about 7 years. Due to the transformation, younger people have been promoted to the junior management in recent years. In addition, following the rise of equal opportunity in employment, male is no more the only option of important positions, the female gentle and firm personality is suitable for the requirement of exquisite and mellow for the Manufacturing Services. Since 2018, there are 46 employees with seniority below five years have been promoted to the junior management, and 13% of them are female, showing a significant change from the past (2014-2017).

Implement cultivation programs for a younger management to optimize the management organization
● Elite Staff Job Rotation and Training Plan
Each year we select elite personnel with outstanding performance in the employee performance evaluation and arrange job rotation at different departments for employees
to develop multifaceted competencies. Staff with outstanding performance in job rotation will be promoted to deputy supervisors to engage in supervisor duties such as decision-making and personnel management so as to further develop their management competency.
● Talents Recommendation and Training Planning System
We are committed to building a well-established talents cultivation system and planning learning and development courses and training plans by level based on the organizational development and competency diversity. In recent years, we have been implementing key talents training programs. In 2023, we establish the Elite Recommendation and Development System for supervisors to develop potential talents.
● Paper Product Overseas Staff OTJ Courses
Trainees included employees who voluntarily applied for the courses or who were recommended by their unit supervisors. These courses focused on field practice through job rotation and was supported with classroom instruction. 23 categories supervisor classroom courses (30 sessions) were offered in 2022 for staff to choose.
Suitability and Retention
We respect personal traits and expertise in employment and salary is according to their academic attainment, past experience, professional knowledge and skills, and professional seniority and experience. To retain excellent talents, through transparent policies including promotion, transfer, external training courses and resources, and the excellent talent pool, we encourage employees to take challenges and training to become management assistants. Medium- and higher-level supervisors at different management levels can also enjoy additional benefits including supervisor health checkup allowance and vehicle purchase allowance, and so on. In 2022, there were 388 new employees, with an employment rate of 10.4%. The male-to-female ratio of new employees in all employees was 10.1%:11.9%.
People oriented, Right People in the Right Place
Maintaining a 10% reasonable turnover rate
Suitable personnel turnover is necessary for enterprises to pursue sustainable development. In recent years, apart from maintaining a 10% reasonable turnover rate, we constantly recruit new employees to bring in vitality and diversify. In 2022, a total of 345 employees or 9.2% resigned, in terms of gender among all employees, 9.3% were male and 8.6% were female.

To effectively retain employees, we actively interview those filing their resignation and provide them with information about the internal job openings in order to facilitate the adaptive development of employees, reduce the impact of adaptation to job transfer, and to lower the overall turnover rate.
Online Anonymous Survey
In 2019, we began to conduct the online anonymous survey of the resignation procedure to discover, and review related problems and propose countermeasures, in order to provide a reference for the future amendment and adjustment of related management regulations or the welfare system. We received 178 responses till now.
Re-employment of Senior Employees
In response to macro-environmental changes, such as populat ion aging and talents discont inuat ion, we are committed to building a workplace culture allowing the accumulation of professional knowledge and experience and respect for employees for excellent employees to continue their contribution after the retirement age. In 2022, a total of 22 employees reached the retirement age. During 2018–2022, we hired 3 retirees as short-term consultants.

Listening to Employee Opinions
To build a quality workplace environment and realize the corporate commitment and policy, we value the opinions of employees and provide various channels for employees to express their claims, including the quarterly labor-management meeting, annual employee opinion survey, new and resigned employees opinion collection, labor union, and the anonymous communication channels on EIP internal website.

Labor-Management Meeting and Labor Union
We hold the quarterly labor-management coordination meeting at each mill/plant to promote labor-management communication and strengthen a reciprocal relationship. We also have 2 internal labor unions (Chupei Mill and Hsinchu Mill). Besides the annual member meeting, the labor unions also hold the quarterly director and supervisor meeting to properly handle and follow up all suggestions made by the labor representatives at the meeting to respect and properly deal with the challenges and difficulties that employees face at work. All mills/ plants held Labor-Management Meetings in 2022.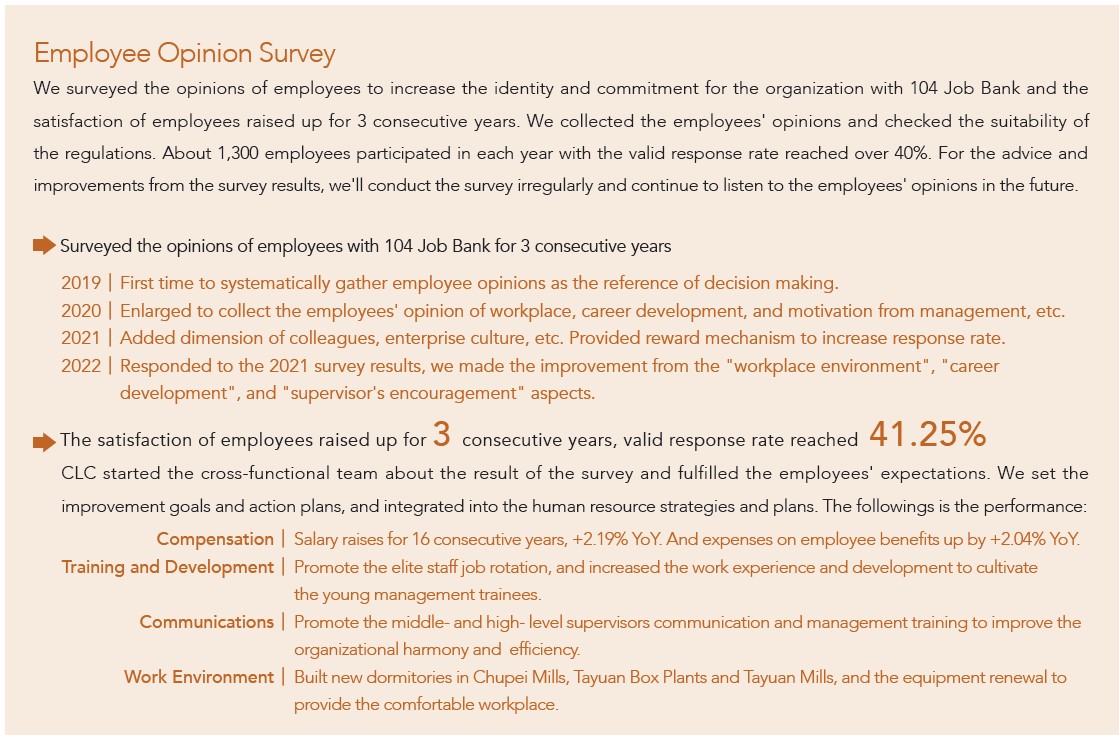 Well-Developed Retirement System
To protect the later life of employees, we have established the "Employee Retirement Implementation Regulations" according to the Labor Standards Act and Labor Pension Act. Besides stating the requirements for retirement, we contribute to the pension reserve by law to protect the employee's rights and interests to claim their pensions. To thank for employee's contributions to the CLC, the supervisor in hiring unit will also present retirees a "Merits for CLC" retirement gold medal to express the CLC's appreciation for their contributions.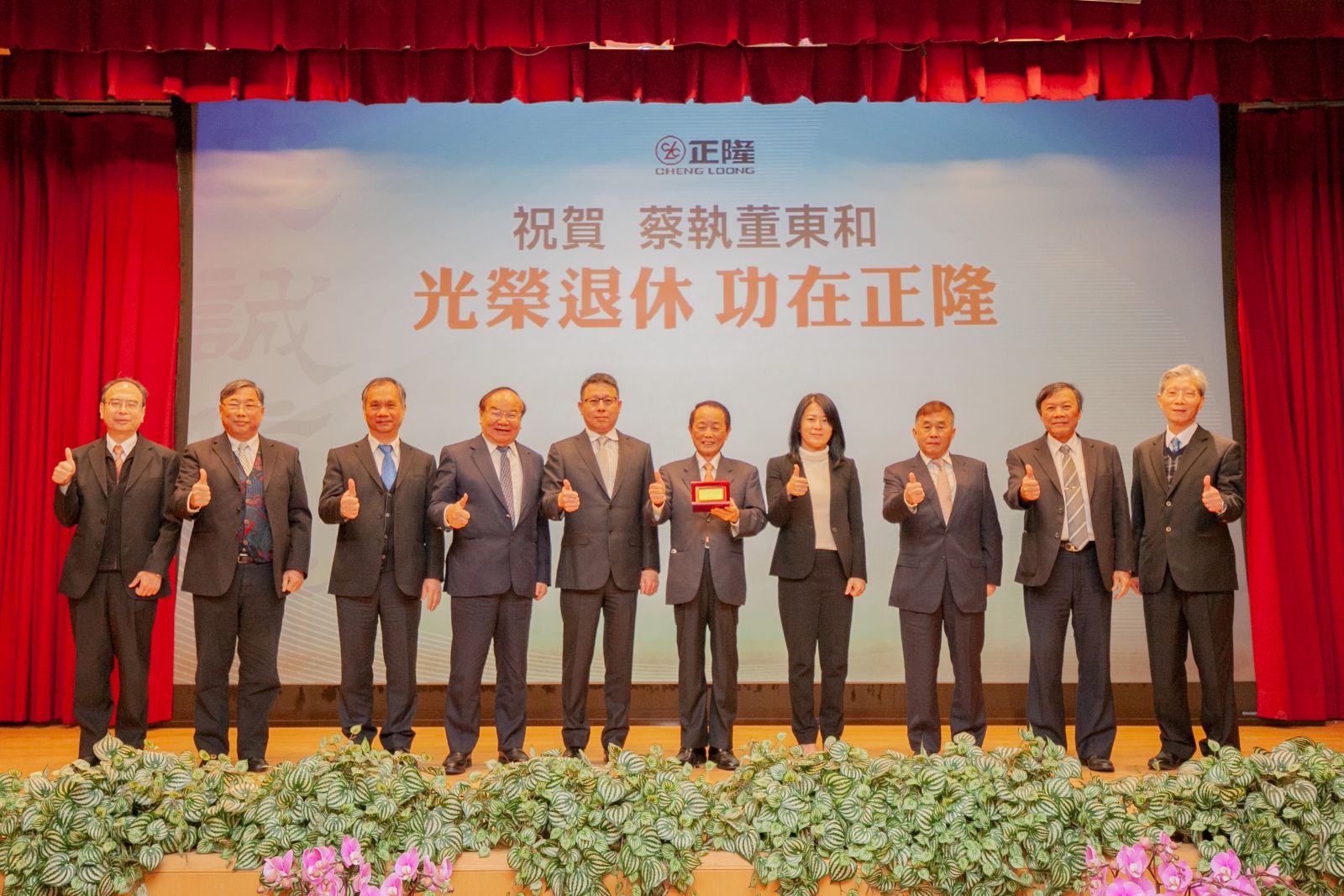 Leading the Industry, Employee Profit. Sharing and Encouragement for Investment with Participate Rate >50%
To stimulate employee morale and appreciate the efforts and contributions made by employees, we review the overall operational performance every year to appropriate a certain amount of profit as employee profit sharing. Since 1998, we established a trust fund to encourage employees to participate in the employee share ownership trust (ESOT) to share the company's long-term operation results. CLC would provide 40% added allowance base on the amount employee allocate in the trust find. In 2022, participate rate which employees signed up to the ESOT reached > 50% (+3.9% YoY, with > 40% over the years), total allowance reached NT$38.93M.

Salary and Treatment
Providing Competitive Salaries,
Salary raises for 16 consecutive years, becoming a constituent the "TWSE RA Taiwan Employment Creation 99 Index" for 12 consecutive years
Besides employee salaries are higher than the local minimum wage by 30% for bachelor's degree and 50% for master's degree, we promote gender equality and equal pay for equal work. As male employees are generally more senior than female employees in some grades and have longer overtime work, the pay is different between male and female employees. Every year we review company's business performance and make the salary adjustment based on the commodity price. resulting in the raise of the employee's salary for 16 years at 1.5-3% each year, and up to 2.19% in 2022. In addition, wage of the non-management full-time employees is around NT$918 thousand, and the mean wage of full-time is around NT$85 thousand.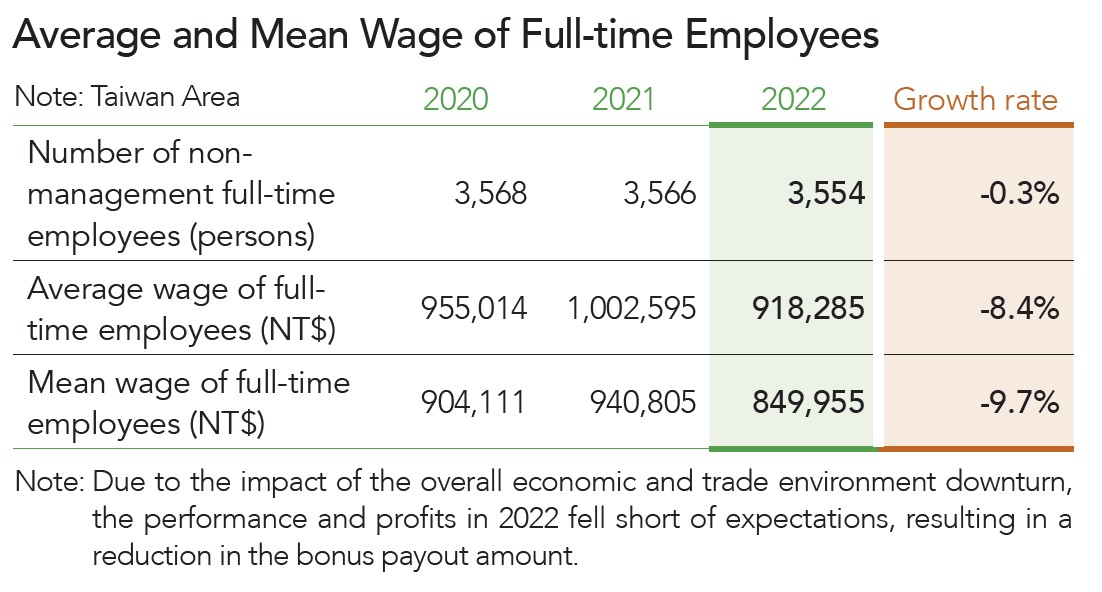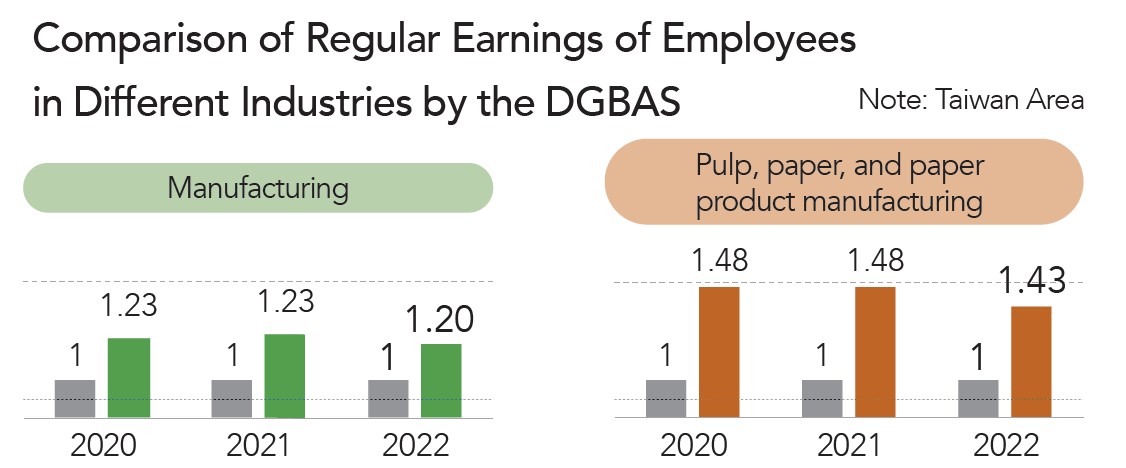 Employee Benefits
Better than the regulations: Expenses on employee benefits up to NT$50,000 by +2.04% YoY
We are committed to establishing employee policies in conformity with the related laws and regulations and welfare better than the regulations including health examination and various leaves for each CLC employee to receive full and proper care and concern. We also take care of the life of employees with various benefits. The employee welfare committee hold committee meetings and review the welfare system regularly and constantly develop comprehensive and complete employee care solutions. In 2022, we spent about NT$50,000 on the benefits of each employee, up by 2.04% from 2021. In addition, we awarded《Happy Enterprise Award》-Gold for the 3rd time which held by 1111 Job Bank.