New Low-Carbon & Green Energy Paper Company Leading Circular Economy and Sustainable Value
At the turn to the next 60 years, we activated the 60+Project in 2020 and set three development foci: Innovation, Recycling, Green Energy. Through the R&D and value- added transformation of technology, we focus on resource recycling and reuse, aiming to become Asia's new low-carbon and green energy paper company, to realize the common good of industry and society. Together for a greener future.
Enforcing Resource Recycling
As a Taiwan-based paper manufacturer for over 60 years, the CLC proactively transforms into a new low-carbon and green energy paper company and realizes the recycling of three major resources: product, energy, and water through a circular economic model.。
0 %
Recovered paper utilization rate
Reduce
0
times of the capacity of Muzha Incineration Plant
Total carbon emissions
0
m tonnes
2020
Results
Recycled recovered paper0m MT = 0m MT carbon emissions
Note:One Tonne Recovered Paper = Saved 20 trees = Reduced Carbon Emissions by 5.8 MT
The Only Papermaker in Taiwan Recognized by 3 Sustainability Awards for Low-Carbon Transformation
Committed to achieving the virtuous circle of the overall supply chain, the CLC constantly engages in the R&D and innovation of green energy and develops low-carbon products and smart services to extend the benefits of the circular economy through steady capacity expansion. We also exert our positive economic, social, and environmental influences in collaboration with consumers and business partners. With the synergy of the energy and resource integration system, we achieved an alternative fuel rate up to 7.23%, increased waste-to-resuorce by 4.2% to 85.1%, reduced GHG emission by 0.57%, lowered the annual unit product water consumption of Paper Division by 1.6% in 2020.
Alternative fuel rate
0
%
Unit product water consumption of Paper Division
0
%
Through constant optimization of our three core strengths: customer service, value-added innovation, low carbon and green energy, we have earned recognition from all walks of society for our achievements in becoming a "green benchmark paper company" practicing the ESG, and completing the low-carbon transformation.
Expanding Domestic and Overseas Circular Manufacturing Sites to Increase Operation
To further expand the scope of the circular economy and build a green, circular business, we are actively engaging in capacity expansion at home and abroad. We have invested more than NT$2 billion in building intelligent box plant in Taiwan at Yanchao, with an annual capacity of 180 million m2 scheduled for mass production in 2021. We have also planned a new 66k MT recovered bleached pulp line at the Tayuan Mill in 2022. In overseas expansion, we have purchased one set of pre-printing equipment for our box plant in Long An, Vietnam, to turn it into Vietnam's only world-grade advanced pre-printing equipment to capture high-end carton business. We have also initiated the Cheng Loong Binh Duong Paper Phase II project with an annual capacity of 400k MT of an industrial paper scheduled for start up in Q4 2021 . In addition, we are planning for the fourth and fifth box plants in Bet Cat and Bắc Gian (northern Vietnam) toward Asia's benchmark paper company for the circular economy.
Upgrading and Transformation Developing Multiple Niche Products, Adding New Energy for Sustainable Development
Value Creation: We constantly develop non-plastic applications to increase the added value of products. Each year we invest over NT$100 million in the R&D of green, sustainable, and differentiated products. Important achievements in 2020 include the development of glue-coating-free eco-paper, high waterproof multifunctional paper boxes, and adhesivetape- free cartons for online shopping; the entry to the ecohousehold detergent market; and the successful mass production of Taiwan's first carrier-tape paper to capture the business opportunities. We engage in upgrading and transformation, develop an eco-friendly business model, and add new energy for sustainable development.

Promotion of plastic-free and3R (Recycle, Reuse, Reduce) , CLC designed an adhesivetape- free carton with 100% recovered paper and multiple use for 61st birthday.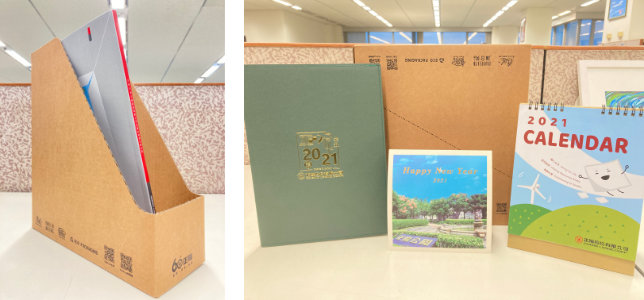 《Special Report 1》First Paper Maker Completely Recycling Food Paper Containers in Taiwan Realizing Carbon and Plastic Reduction and Developing Green Business Opportunities
Food paper containers require professional processing plants to separate the plastic surface lamination in the interior from the paper pulp before recycling. However, people often throw waste food paper containers as general waste that is treated by incineration or mixed with general waste paper for use by papermakers, eventually increasing the waste treatment cost.
Acquiring Waste Food Paper Containers Processing Registration in Two stages.
We firmly believe that there is no waste but misplaced resources. To tackle the problem of waste food paper container disposal, we also believe that it is responsible for papermakers' responsibility to engage in recycling waste food paper containers. Therefore, we made advanced deployment by investing a "efficient film laminated paper treatment system" at the Chupei Mill at the end of 2018 to become the first domestic paper maker completely recycling food paper containers. We acquired the permit for and expanded the capacity of food paper container recycling in two stages. Currently, the approved processing capacity of food paper containers is 1.4k MT each month.
Chupei Mill produces the household paper products brands: Andante and Dandelion, is the key demonstration mill for the CLC to demonstrate green transformation, by introducing Asia's first 1MW wind turbine as early as 2003 and cetifing the 1st Renewable Energy Certicifate for wind power among the paper industry. Chupei Mill engages in R&D and total equipment upgrading to enhance waste food paper container recycling efficiency and develops paper-plastic separation technology through cross-industry collaboration. The paper fiber yielded becomes the raw material for producing recycled coated whiteboard, the tailings of trimmed laminates produced by food paper container manufacturers will become one of the alternative raw materials for household tissues. The plastic laminate is recycled into solid recovered fuel (SRF) bars and green bricks for construction to balance environmental protection and economic benefits with a creative double-circulation business model recognized by a range of domestic awards for sustainability.
Recognitions:TSCA Circular Economy Leadership Award & The 1st National Enterprises Environmental Protection Award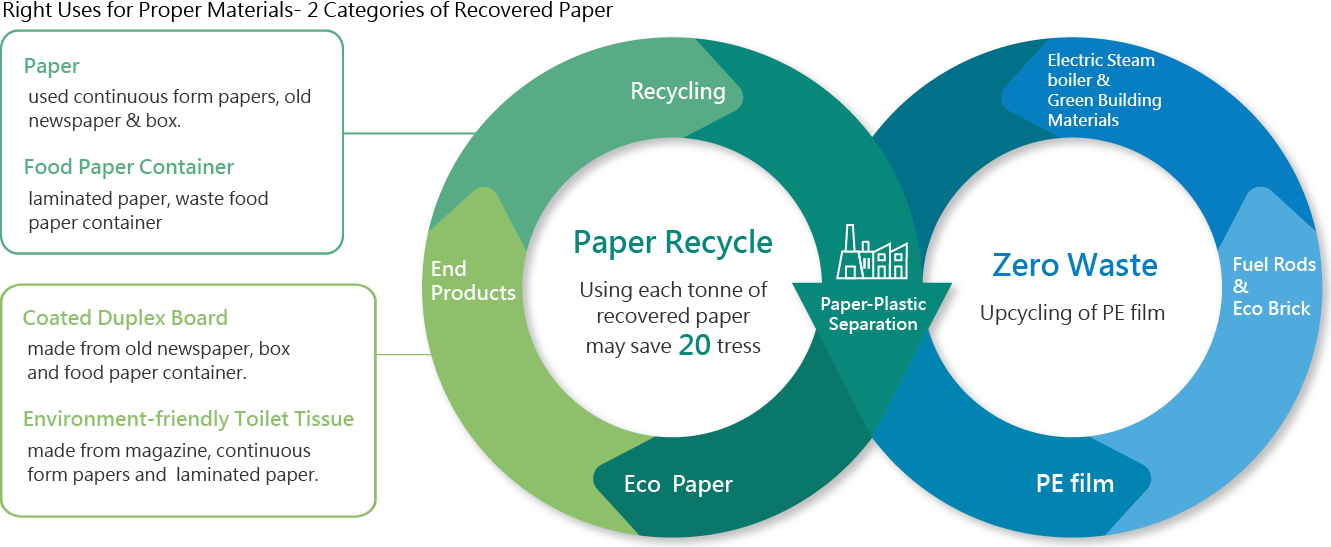 Creating Secondary Forest

- Turning Waste Food Paper Containers into Low-Carbon Products, Maximizing Environmental Benefits

2020
Results

Food Paper Container / Liminated Paper Consumption = 0 k MT = Saved 0 k trees = Reduced Carbon Emissions 0 k MT

(Note: Every 1 MT of paper tableware can be recycled into about 0.6 MT of recycled paper to save 20 trees and carbon emissions by 5.8 MT to create a secondary forest.
Expanding New Production Lines at Tayuan Mill to Enhance Recycling Value Chain
We will futher invest nearly NT$900m to add a recovered bleached pulp line with a capacity of 66k MT at Tayuan Mill in Taiwan using waste food paper containers and laminate tailings as the major materials to further expand the processing capacity of food paper containers. After commercial operations begin at the end of 2022, the monthly consumption of waste food paper containers can increase to 10k MT. To support the government's waste reduction policy at all times, we will help resolve the disposal problem of waste food paper containers and build a circular economic model for industrial use to expand the economic and environmental value of recycling waste food paper containers, so as to win many sustainable prizes.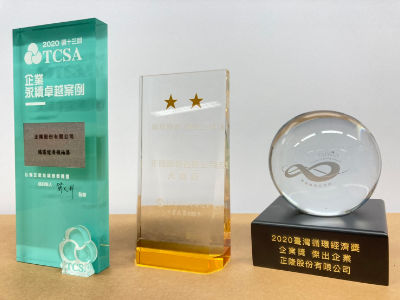 Cross-Industry Cooperation
Driving the Positive Circle of Resources Through Effective Reuse of Quality Laminate Trims and Reduction of Tailing Incineration with Tetra Pak
Thriving Recovery Channels and Low-Carbon Product Development with Tzu Chi
Besides collaborating with over 8,000 recycling stations across Taiwan of Tzu Chi Foundation to increase the channels and sources for recovering ordinary paper and waste food paper containers and co-developing the "Jing Si Pureland" recycled household tissues with the foundation to popularize recycled toilet tissues in Taiwan, we have also engaged in resources integration by providing PE laminates to develop the recycled interlocking blocks to thrive the circulation channels of recovered paper and waste food paper containers, maximizing the benefits of green alliance and achieving the vision of "Love Earth and Zero Waste."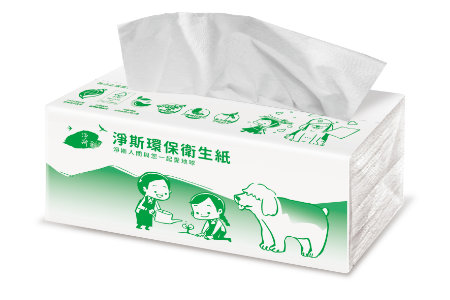 Jing Si Pureland Recycled Household Tissues (launched in April 2020)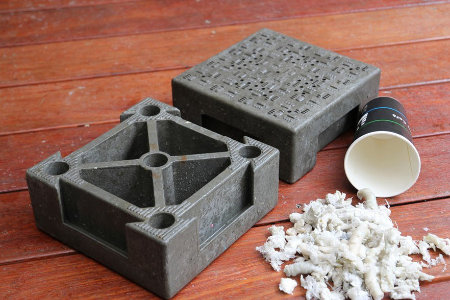 PE Laminate Recycled Interlocking Blocks
100M2 Recycled Block = Reduce 20 MT Concrete = 4 MT of Plastic Waste = 9 MT Carbon Emission Reduction。
Engagement Activity: Promoting Food Paper Container Recycling for A Better Circulation
Through interviewing and shooting the routine work of frontline employees at the mill, we enable the public to understand the recycling process of waste food paper containers to achieve a virtuous circle among craftsmanship, eco-friendly processes, and happy enterprise.


《Special Report 2》Realizing Green Energy Transformation Toward Zero Coal Firing with Taiwan's Largest High-Performance Biomass CFB Boiler System
Stable electricity and steam supply is the prerequisite for the operation of modern large paper mills. In 1984, we introduced the first large co-generation system to pioneer integrated energy application of Taiwan's paper industry in order to significantly enhance energy efficiency and maintain environmental sustainability at the same time. Today, besides erecting four co-generation systems in Houli Mill and Tayuan Mill, we have also invested in the establishment of Ta-Yuan Cogen Co., Ltd. to supply electricity and steam in the Dayuan Industry Park to optimize energy efficiency and prepre for becoming energy supplier.
Developing Renewable Energy First Paper Company in Taiwan Acquired T-RECs. A total of 9,309 certificates.
In response to climate change and the trend of energy conservation and carbon emission, we proactively implement low-carbon energy transformation. Taking the geographic advantage of mills, we built the first wind power system in Taiwan's paper industry at Chupei Mill in 2003 by engaging in a government project to supply electricity for the paper mill and pioneer wind power generation in Taiwan. Making use of the long daytime in Taichung, we built rooftop solar panels at the automated warehouse of paper machine 10 of Houli Mill in 2011 to lower building temperature, reduce energy consumption by the air-conditioning system, and generate green energy at the same time. In 2019, we further installed a solar energy system at the transit warehouse in Taichung to increase green energy output. In 2021, we will build a rooftop solar system at the new box plant in Yanchao and introduce biogas power generation to Tayuan Mill to continue green energy development.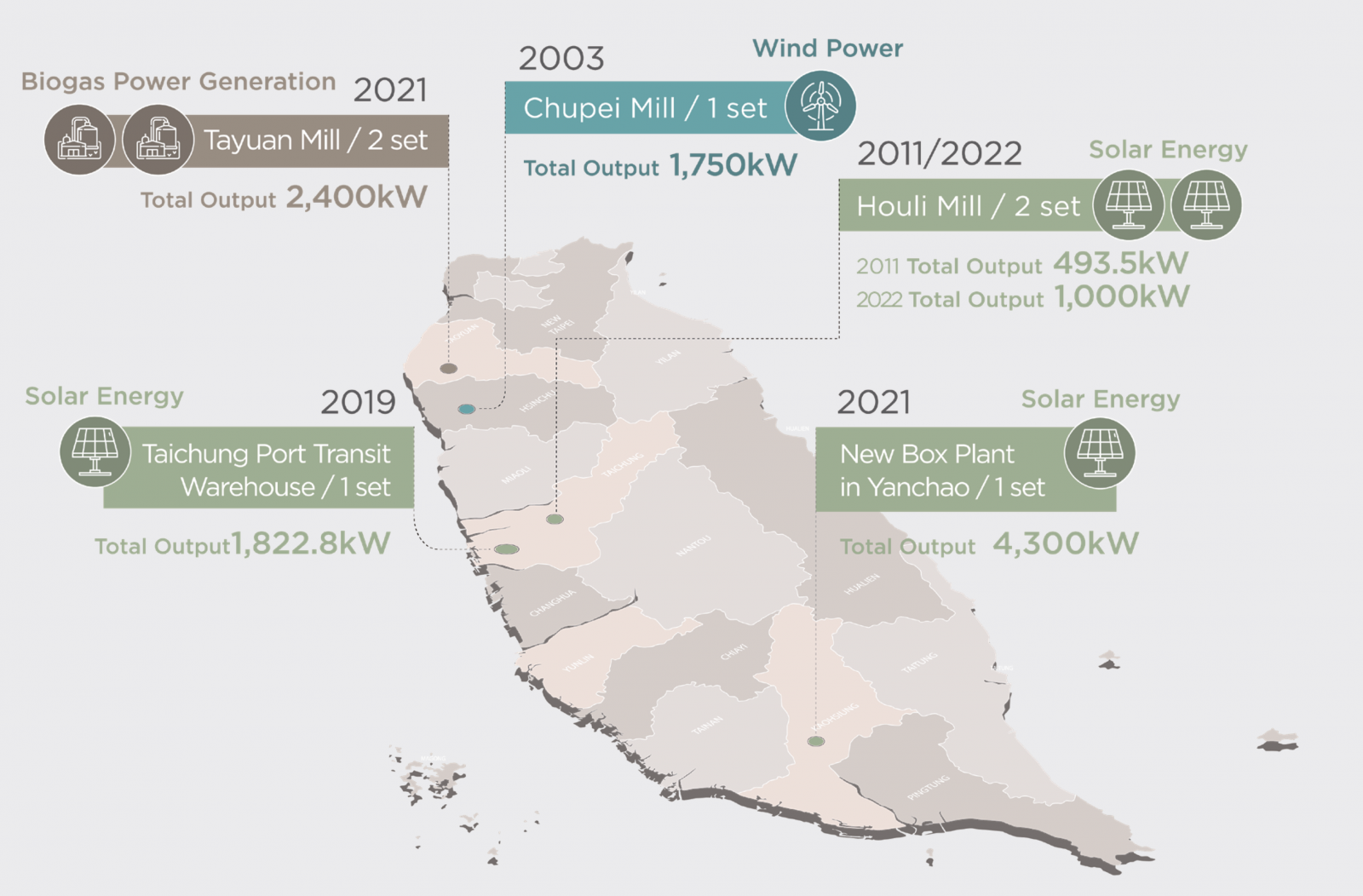 Waste-to-Resource up to 85.1%
We began residual material-to-energy and residual material- to-resource since a long time ago to transform the remaining recovered paper fibers from the process into energy by mixing with residual plastic materials of higher heating value (HHV) and organic sludge to reduce fossil fuel use and carbon emissions.
2020 Waste-to-Resource Results: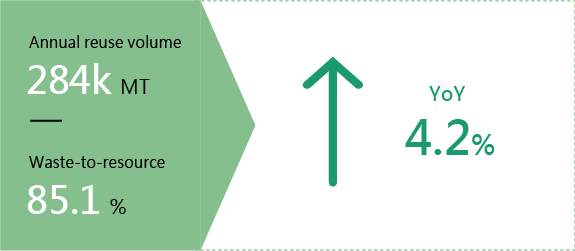 Toward Zero Coal Firing with Taiwan's Largest High-Performance Biomass CFB Boiler System
To continuously develop renewable energy for coal reduction and zero coal firing, we have implemented Taiwan's largest biomass CFB boiler system at Chupei Mill with NT$1.5b. After the start up in 2nd half of 2021, we will move toward the waste-to-energy and independent power supply to significantly enhance CLC's competitive strength in GHG reduction.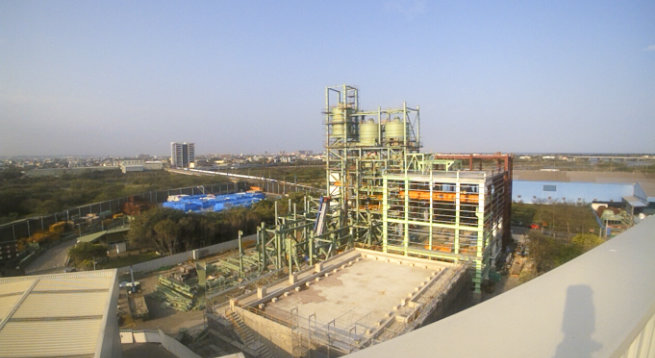 | 4 Features | 4 Highlights |
| --- | --- |
| Taiwan's unique quad-fuel (SRF, pulp sludge, biomass fuel) feeder to enhance energy efficiency | Realizing optimal energy application for cogeneration and SRF burning with the intermediate pressure medium temperature biomass generation system |
| Effective inhibition of dioxin generation:Furnace flu gas temperature >850℃, flu gas stay>2s | SRF maximum dessign capacity 14,000 MT/month |
| Support burning with 0-100% SRF | Generator capacity 16,000 kW Annual generation capacity 1.26 GWh = Consumption of 430k households |
| Power generation efficiency up to 29% (better than regulatory requirements by 25%) | Annual coal replacement at 30,064 MT Carbon deduction by 33,595 MT |



《Special Report 3》Smart Paper 4.0 AI Bright Future First Paper Company in Taiwan Engaging in Smart Papermaking Winning with Big Data
To enhance operational competitiveness in the drastically changing global environment, besides constantly upgrading and reengineering hardware equipment and completing the ERP system as early as 2003 to enhance operational management efficiency. Starting from smart manufacturing, we independently completed the development of the e-cogeneration system in Houli Mill, the enterprise-wide e-procurement platform, and household product CRM management system during 2012-2017. In 2019, we initiated year zero of a smart factory by implementing the "Smart Papermaking 4.0" project to introduce the industry-first OSI smart management platform to link three major processes: production, sales, and logistics. Through gathering and analyzing big data with AI and by integrating "IoT," "mobile," and "data" applications, we achieve total optimization covering manufacturer, sales, and services to become Taiwan's first paper company implementing smart production and sales to further upgrade the industry's value chain with digital transformation.

Smart Factory
Strategy:
Enhance Production Efficiency; Reduce Energy Consumption; Realize Low-Carbon, Energy-Efficient, Green Production
Smart Manufacturing
The device adopts the IoT function: Through information integration, we can instantly control the machine status, ensure product quality, and use energy resources best.
→ OSI smart management platform' Digital IPQC
Smart Services
Use real-time analysis technology to predict customer needs and provide customized services.
→ Corrugated container sales APP Industrial paper demand forecast
Smart Logistics
Monitor and grasp the status of products from inventory warehousing, production to terminal shipment anytime and anywhere.
→ Smart warehousing and logistics in Yanchao box plant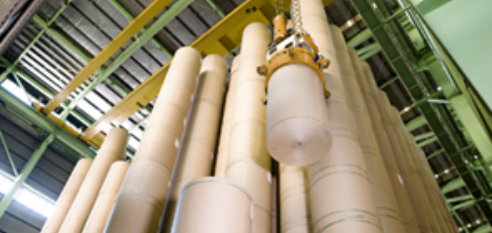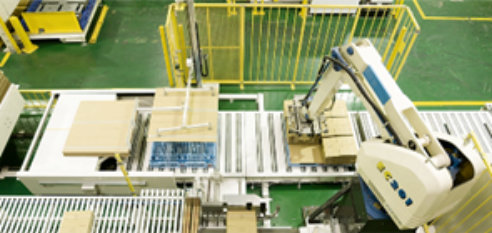 STEP 1
In 2019 we activated the "Houli Mill Cogeneration Set" and "Chupei Mill Household Tissue Machine" pilot projects to optimize paper machine operation and production processes and enhance the effectiveness of energy-resource integration and operation. In 2020 we further extended the project scope to paper machine 10 of Houli Mill, paper machine 15 of Chupei Mill, and overall cogeneration system of Houli Mill. At the same time, we plan to implement the digital IPQC system platform. With tools including the PDA and RRID tags, we realize paperless record maintenance, and enhance IPQC efficiency and digital transformation operation. We also introduced the corrugated container sales APP linking to the ERP system to optimize services and management, thereby enhancing customer satisfaction.
Pilot Projects
Benefits

Houli Mill

Cogeneration System

Monitored boiler condition to prevent loss from unexpected machine failure.
Enhanced boiler total energy efficiency up to 6% to reduce cost up to NT$18.36m a year.
Extended boiler annual repair cycle from 1 year to 1.5 years.
Prevented over-standard emissions through real-time monitoring and linkage to the continuous emission monitoring systems (CEMS) for early warning.

Chupei Mill

TM16 Household Tissue Machine

Stable process increased maximum yield by 3.1% YoY.
Significant reduction of dissipation raised the average yield rate by 1.1% YoY.
Overall equipment effectiveness (OEE) increased by 0.7% YoY.
General and unexpected maintenance expenses were reduced by NT$1.26m a year.
STEP 2
In 2021 we will introduce the smart order scheduling system to the new box plant in Yanchao to integrate sales, production, and logistics. Alongside the solar generation system, the Yanchao new box plant will be turned into Taiwan's first low-carbon, smart box factory. We will also integrate the AI system across all box plants in Taiwan to enhance smart operation, reduce transient machine downtime, raise capacity, and enhance delivery efficiency for the CLC to win with smart competitiveness.


《Special Report 4》Right Uses for Proper Materials
CLC Activated Recovered Paper Supply Chain 2.0 Upgrading Program
Committed to promoting the recycling and reuse of materials and top-down linkage of businesses to demonstrate the synergy of ESG, we advocated the "Recovered Paper Sorting At Source Guidance Program" in 2018 ahead of competitors and activated the 2.0 Upgrading Project in the second half of 2020 to care about frontline individual waste collectors, hoping to drive industrial chain growth for the common good and co-prosperity.
Each year we use about 1.72m MT of recovered paper, with two-thirds of them being purchased domestically, making the CLC the largest recovered paper user in Taiwan. By setting the circulatory economy a target of corporate development, we recycle recovered paper and recycle processing waste for reuse or as secondary energy and resources.
In 2018, with "Recovered Paper Sorting At Source Guidance Program" , we publicized correct sorting to nearly 90 contract suppliers to enhance paper sorting quality yand reduce waste. The guidance covered printing and distributing over 2,000 copies of educational posters, revising the purchasing standard, and selected two focus recycling companies to optimize their sorting and recycling systems. After 2-3 years of guidance, some cases have successfully completed the transformation. Besides progressive concept changes, economic benefits were also acquired.

Sorting-at-Source Sundries Reduction
In addition, correct sorting improves the quality of the recovered paper and thereby benefits paper companies and also comply with government's circulatory economy priciple. Since implementation of the project, after unpacking and pulping recovered paper, the non-fiber impurity drainage rate has reduced from 10-13% to below 6%. Besides enhancing resource efficiency, this has reduced the cost of waste disposal.
Guidance Program 2.0: From End to Beginning-Care for Waste Collectors
Through the guidance, observation, and replacement stages, after two years of implementation, we have successfully helped recycling companies such as Lifu from Taoyuan and Renyi from Taichung optimize their sorting system by building mechanical conveyor belts to divert different types of paper and paper containers. In view of the lack of proper channels to meet the needs for destroying the confidential documents of the Armed Forces, healthcare institutions, and schools in Hualien and Taitung, we helped one local recycling company to build a pulping mechanism to solve above problem and help to obtain more business opportunities.
We activated the Guidance Program 2.0 in the second half of 2020. Besides reviewing publicization, including requesting for the publicization records from recycling companies and rag-and-bone men and continuing distribution and posting waste sorting posters, we planned visits on over five waste collectors evert quarter to express our care to understand the problems and comments of frontline waste collectors and thank for the efforts.

Purchasing Department- Assistant Manager, Hsien-Nun Chiu
"Resistance was quite strong at the beginning, recycling companies complained that waste sorting was very annoying, secondary checks lowered packing efficiency, and ragand- bone men even refused to cooperate and sold recovered paper to others, reducing recovered paper sources. However, After 2-3 years of communications, guidance, some cases have successfully completed the transformation. Besides progressive concept changes, economic benefits were also acquired."
Right Uses for Proper Materials


CLC Care for Waste Collectors Begins!
Small Steps for Correct Frontline Waste Sorting, A Big Help for Paper Companies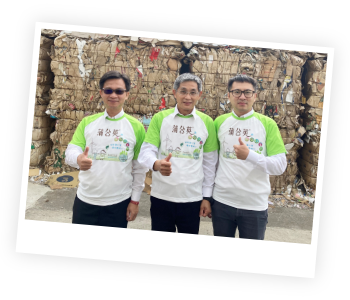 Pushing the waste collection trolley and sorting the collected waste laboriously has been the daily routine of Ms. Hsu over the last 15 years.
Deaf-mute Ms. Hsu has been a waste collector for 15 years and is worried about the lack of regular collection sources. Collecting waste everywhere causes her sore muscles. Ms. Chiu, another waste collector, collects waste together with her husband. Waste collection brings her a sense of achievement. She said cheerfully, "Collecting waste allows us to keep the environment clean. We are glad that we can help. After collecting waste for such a long time, we feel weird if we don't bring waste in the street home. "
Ms. Wang lives alone after four daughters left home and watnts to be independent. Besides collecting waste, she also joins the city government's volunteer cleaner team and does odd jobs and washes dishes at the fish market on weekends. Handling waste sorting with great ease, she shares her income journal filled with data in great detail. She even classifies waste paper into four types: newspaper, carton, food paper container, and white-surface paper. The small steps for correct frontline waste collection are really a big help for paper companies to enhance box and recycled toilet tissue production efficiency.

Card content
"We thank you and your family who spend so much time collecting recyclable waste for reuse every day. Because of your efforts in collecting such clean waste and sending it to CLC mills, we can recycle it into handy and eco-friendly box and recycled toilet tissues. Thank you for making the city cleaner... "



《Special Report 5》Children's Education for Secondary Forest Building 19 Paper Libraries Across Taiwan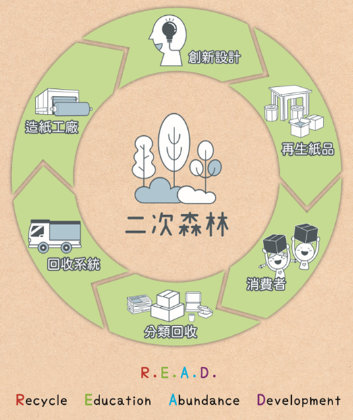 " Using one tonne of recycled pulp can save 20 trees, like growing 20 invisible trees. This is the idea of a secondary forest."
"How can humankind make a better world together with land, animals, and entire nature?" It has always been our concern. "As a paper company, what should we do to show the public the importance of resource recycling?"
Recognizing that education is the power of social advancement, and environmental education should start from children, we advocate the "Children's Education for Secondary Forest" program to build the "paper library" with recovered paper and design resources of paper mills in rural elementary schools. With these paper libraries, we hope that children can come in contact with paper, understand that paper desks, chairs, and bookshelves are made with recovered paper, and learn the importance of forest conservation and environmental protection, for the sustainable good of the city we live.
Paper Library
We began our visits to elementary schools near our plants/mills in 2014. After understanding teachers' and students' needs, we built the paper libraries with 100% recovered paper, planned professional book selection, and developed the paper creativity workshop to engrain the concept of valuing paper resources in children. Until 2020, we have built 19 paper libraries to benefit over 14,000 children. In the future, we will build 2-3 paper libraries each year, with a target of 40 paper libraries in 2030. We will also constantly revisit those paper libraries to understand their occupancy and make improvements.

1. Revolving Rural Resource Shortages, Stimulating Children's Learning Interest
→ Equipment in rural schools is old, and mobiles and tablets are unpopular, demotivating children from reading.

3. Deepening the Image of Industrial Innovation & Circular Economy
→ Share the unlimited creativity of paper and the importance of eco-friendliness.

2. Disseminating Correct Waste Sorting Knowledge
→ Recovered paper contains 10-13% of impurities and is often incorrectly collected.
4. Breaking the misconception of paper industry
→ Paper industry recycle and reuse resource, help reduce household waste.
| Start-up time | School (Total:19) |
| --- | --- |
| 2014 | Jungshing Elementary School in Tongluo, Miaoli County; Nei-Pu Elementary School in Houli, Taichung City; Wuquan Elementary School in Dayuan, Taoyuan City. |
| 2015 | Feng Kang Elementary School in Chubei, Hsinchu County; An Chao Elementary School in Yanchao, Kaohsiung City; Taichung School for the Visually Impaired in Taichung City. |
| 2016 | Yanqiao Elementary School in Kaohsiung City; Chao Ing Elementary School in Dayuan, Taoyuan City; Ding Pu Elementary School in Hsinchu. |
| 2017 | Pu Qian Elementary School in Banqiao, New Taipei City; Yue Mei Elementary School in Houli, Taichung City; San Ho Elementary School in Dalin, Chiayi'. |
| 2018 | Houli Library in Taichung City, Hsihai Elementary School in Dayuan, Taoyuan City. |
| 2019 | Hou-Hong Elementary School in Kaohsiung City; Kuangfu Elementary School in Zhonghe, New Taipei City; Fu Chuen Elementary School in Taichung City |
| 2020 | Danan Elementary School in Xinshe, Taichung City; Ji Suei Elementary School in Zhonghe, New Taipei City. |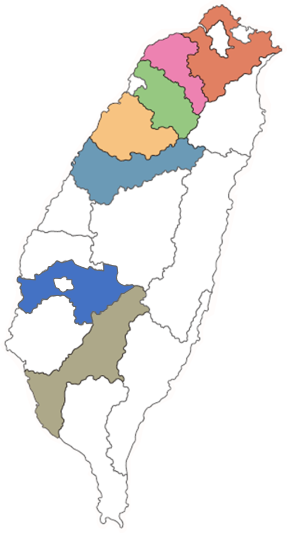 Feature 1、Paper libraries exert four synergies to build the best demonstration venues for the circular economy by integrating CLC's paper design core expertise.
| Construction with 100% recovered paper | Planning & book selection by professional scholars | Paper Studio "Play the ECO way" Course | Promotion of the "Operation Campus Recovery" |
| --- | --- | --- | --- |
| Creating a recycling environment. | Raising children's environmental awareness with vivid and lively picture books. | Practicing circular education through diversifying interaction design. | Developing the recycling concept through personal involvement and hands-on practice. |
Feature 2、Theme Diversity, Design Diversification, Structure Versatility
• Exhibitions with Special Displayed Paper Bookshelves
Developing bookshelves with the display function to attract students through conspicuously presenting book covers and demonstrating exhibition themes.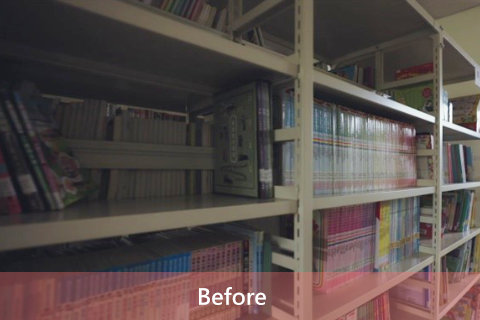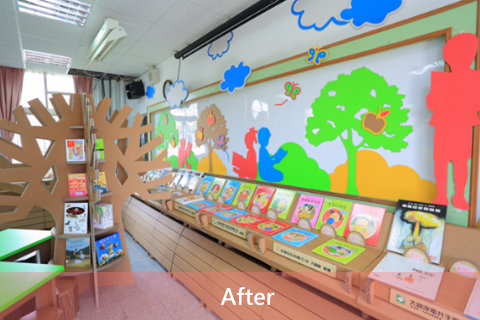 • ECO Mobile Classroom
Paper desks and chairs are lightweight, handy, and safe for easy handling of lower-year students and teachers' flexible arrangements.
Feature 3:Development of Low-Carbon Sustainable Products with Corporate Core Strengths
To enrich the paper libraries' spatial design, we have developed the "little tree desks and chairs" according to the children's height and matched the environmental protection image.
《Results and Influence》
(1)
Enhancing book borrowing rate:
Borrowers increased by 45% and 7%. (cases of Fu Chuen Elementary School in Taichung City and Kuangfu Elementary School in New Taipei City)
(2)
Best venues for environmental education:
Enhanced learning rate by publicizing the protection of nature and the environment and the uses of recovered paper through paper libraries.
(3)
Caring the vulnerable in rural areas :
Called for the public's concern about the environmental, resource shortage, and reading problems in the rural through the newspaper libraries' news coverage.
(4)
One school one feature :
Recipient schools developed "one school one feature" with creativity in collaboration with the paper libraries to extend paper libraries' application.
(5)
Winning for education innovation :
※ Kuangfu Elementary School in New Taipei City:"2019 Best Reader Award" from the Ministry of Education
※ Pu Qian Elementary School in New Taipei City:The second "Cool Green Energy School" in New Taipei City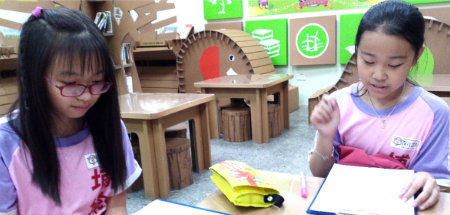 Train students to serve as guide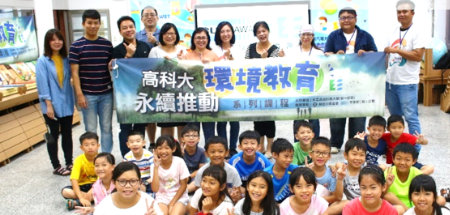 Best venues for environmental education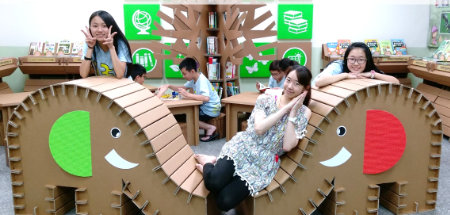 Graduate overnight location

Danan Elementary School in Taichung City-Headmaster, Cheng-Lung Hsieh
"Besides providing children with richness of reading, the paper libraries also educate them on the importance of environmental and ecosystem protection by building these libraries with recovered paper. "

Ji Suei Elementary School in New Taipei City-Student Feedback
"Book covers were not displayed at the school library before. Now, bookshelves in the paper library are made of paper and well decorated, attracting me to read more books there. "
Deepening the influence of paper libraries with micro-film "Cycle Seed and Budding"