Action for Climate Change
Identification of Climate Change Risks and Opportunities
We keep track on climate change adaptation strategies over time to mitigate the impact from climate change. With respect to the Task Force on Climate-related Financial Disclosures (TCFD) of the Financial Stability Board (FSB), the CSR Committee and related departments have identified 10 key climate risks and 11 key climate change opportunities, to identify financial impact of climate change under the 2DS (2°C scenario: according to the Paris Agreement, global temperature rise will be controlled within 2oC by the end of the century) and NDCs (nationally determined contributions in GHG reduction). Measuring indicators and management targets and related countermeasures and action plans have also been established accordingly to enhance the management of climate change risk.

We make the circular economy our development focus. Besides assessing the financial impact brought by climate change, we also implement related improvement projects, optimize production process, and promote low-carbon, sustainable products. In addition, we invest in smart, automated, renewable energy, and environmental protection equipment every year, to enhance the efficiency of energy and resource integration and achieve energy conservation and carbon reduction. In 2020–2021, we will invest over NT$3 billion in Taiwan to mitigate climate change impact in real action.

Over the past three years (2018–2020), we have appropriated a total budget of NT$180 million to implement over 123 energy conservation and carbon reduction projects to effectively reduce 22,000 tCO2e of carbon. To support renewable energy use, we have installed wind power and solar systems at 3 CLC mills/plants so far.
2020-2021 Energy Resources Integration Investment Plan
Increase the bio-energy regeneration processing capability by built up of Taiwan highest-performance biomass CFB boiler system in Chupei Mill.
Install solar power generation equipment in Yanchao new container box plant and Houli mill.
Set up the biogas desulfurization and power generation equipment in Tayuan mill.
Expand the pollution prevention equipment.
All fuel-oil boilers in the container box plants were converted to natural gas boilers.
TCFD Management Framework
Core
Corporate Management Strategy and Action
Governance
The board of directors periodically review the risks and opportunities that relate to climate change

CSR Committee
With the chairperson being the committee advisor and the president being the committee chief, the CSR Committee promotes projects for sustainable development according to the strategies and objectives and reviews the performance in energy conservation and carbon reduction, and the action for addressing the risks and opportunities from climate change at least twice a year and report to the BoD.

Strategy
Discuss and identify short-, medium-, and long-term climate risks and opportunities across department.
Assess the potential operational and financial impacts brought by significant climate risks and opportunities.
Conduct scenario analysis.
Risk Management
Adopt the TCFD framework to establish CLC's process for climate risk identification.
Determine related countermeasures according to the identification and prioritization results of climate risks.
Indicators
and Targets
Determine the related management targets of climate change.
Periodically check GHG emissions according to ISO 14064-1 to review the impacts that the company faces.
Set management targets for climate change and review the status of achievement and actual performance of targets.
Identification of 10 key climate risks and 11 key climate change opportunities
Risks
Transition
Risks

Energy resources/greenhouse gas laws and regulations

Increase in GHG emissions costs

GHG total control and carbon trading system

Energy efficiency standard restrictions

Major energy user terms in the Renewable Energy Development Act and local green energy self-governance ordinances

Transformation needs of low-carbon technology

Impact on the Company's image

Physical
Risks

Typhoon, flooding

Drought

Rising Temperature
Opportunities
Resource
Efficiency

Improve the recycling efficiency of recovered paper

Adopt more efficient manufacturing process and production, sales and distribution

Reduce water use and consumption

Energy
Source

Promote low-carbon and energy-saving production

Use alternative fuels

Adopt incentive policy (Participating in international organizations requires companies to purchase RECs)

Products
and
Services

Develop low-carbon products and services

Markets

Obtain government's cooperation and reward

Positive corporate image

Resilience

Promote low-carbon green production

Improve resistance to natural disasters
CLC Financial Impact Analysis on Climate Change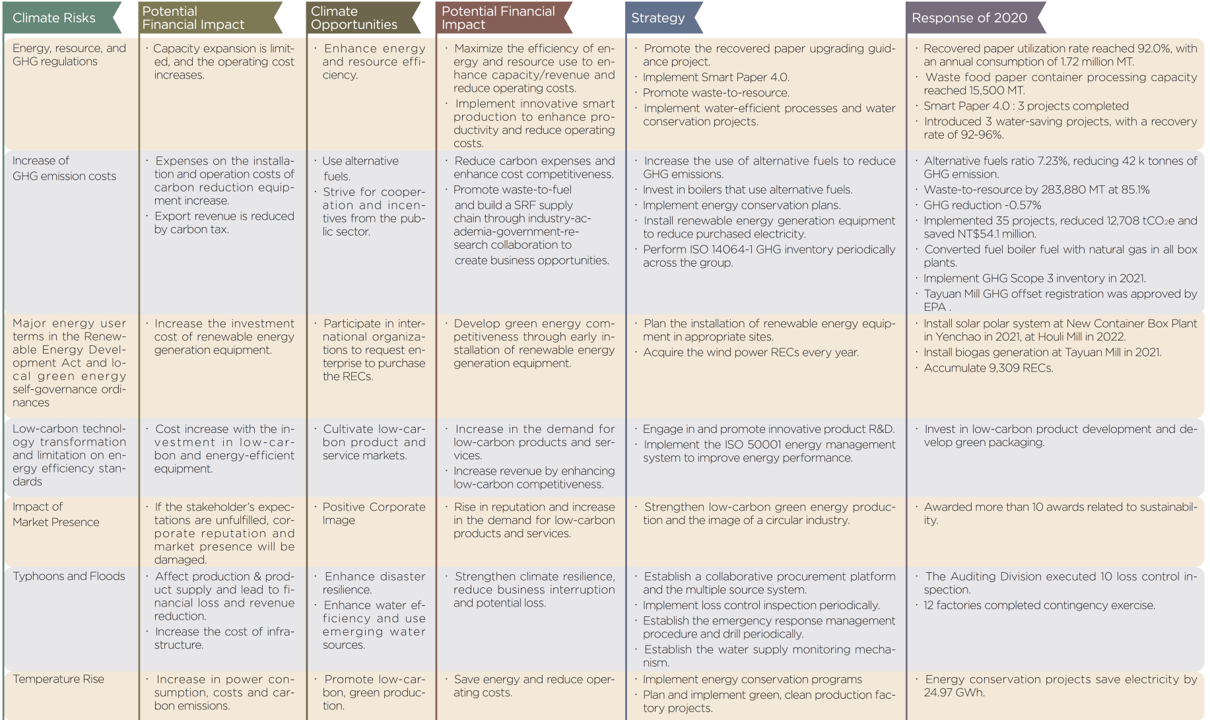 CLC Action Plan on Climate Change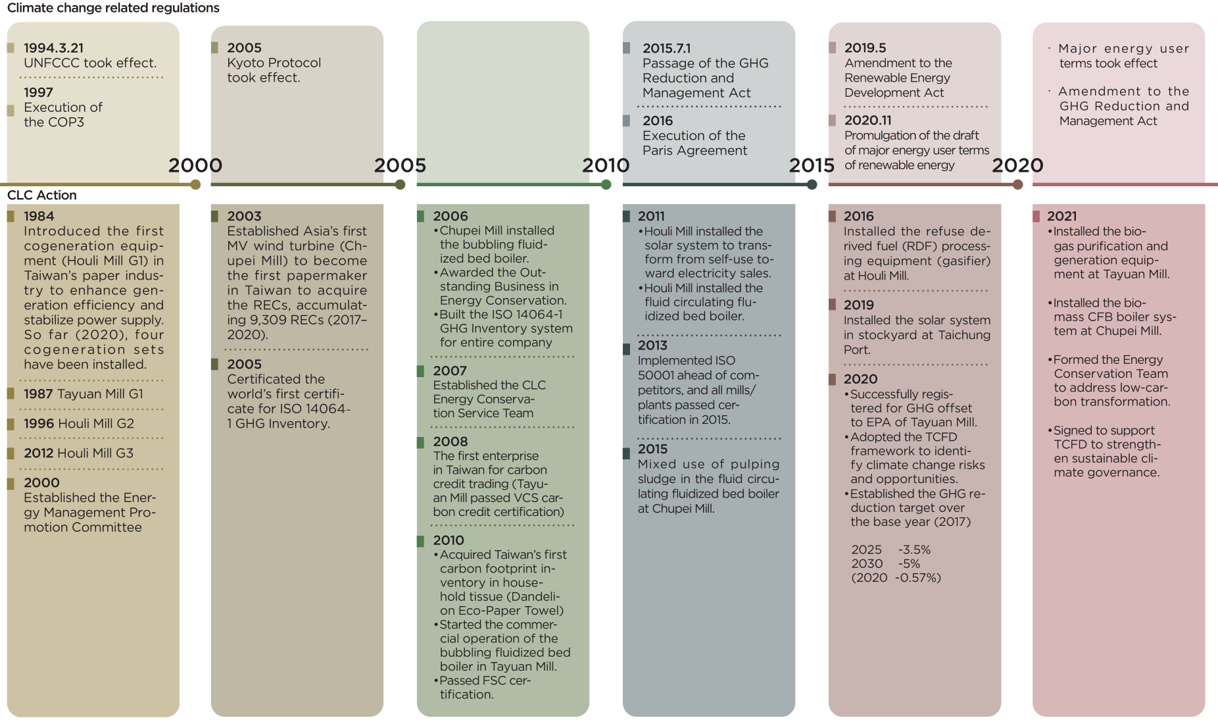 Greenhouse Gas Management

In the face of the challenge of global climate change and in order to support the national long-term goals of reducing greenhouse gas emissions, CLC Tayuan Mill took the lead to participate in the preliminary project of the Industrial Development Bureau and implement the ISO 14064-1 GHG management system in 2004 and successfully obtained the world's first ISO 14064-1 GHG inventory certificate. Since 2006, CLC has built the GHG inventory system for entire company based on the successful experience at the Tayuan Mill, by setting GHG emission management policies and targets for each mill/plant, CLC effectively suppress GHG emissions.

We have set the reduction targets for 2025 and 2030 at 3.5% and 5% respectively over 2017. Through implementing the circulatory economy, cross-department and cross-process resource circulation and integration, we promote various energy conservation programs, develop renewable energy, and introduce high-efficiency energy conservation equipment to constantly optimize GHG reduction. In addition, Talin Container Box Plant completed boiler fuel replacement from fuel oil with natural gas in 2020, as a result, the unit GHG emission intensity was reduced by 33%. In 2020, CLC's total GHG emissions reduced by 0.57% or 8,081.578 tCO2e over 2019 to 1,411,594.280 tCO2e. As SRF consumption of Tayuan Mill reduced, emissions were 0.19% higher than that of the base year (2017). In 2021, we will continue to implement various projects to reduce emissions by 1% below that of the base year.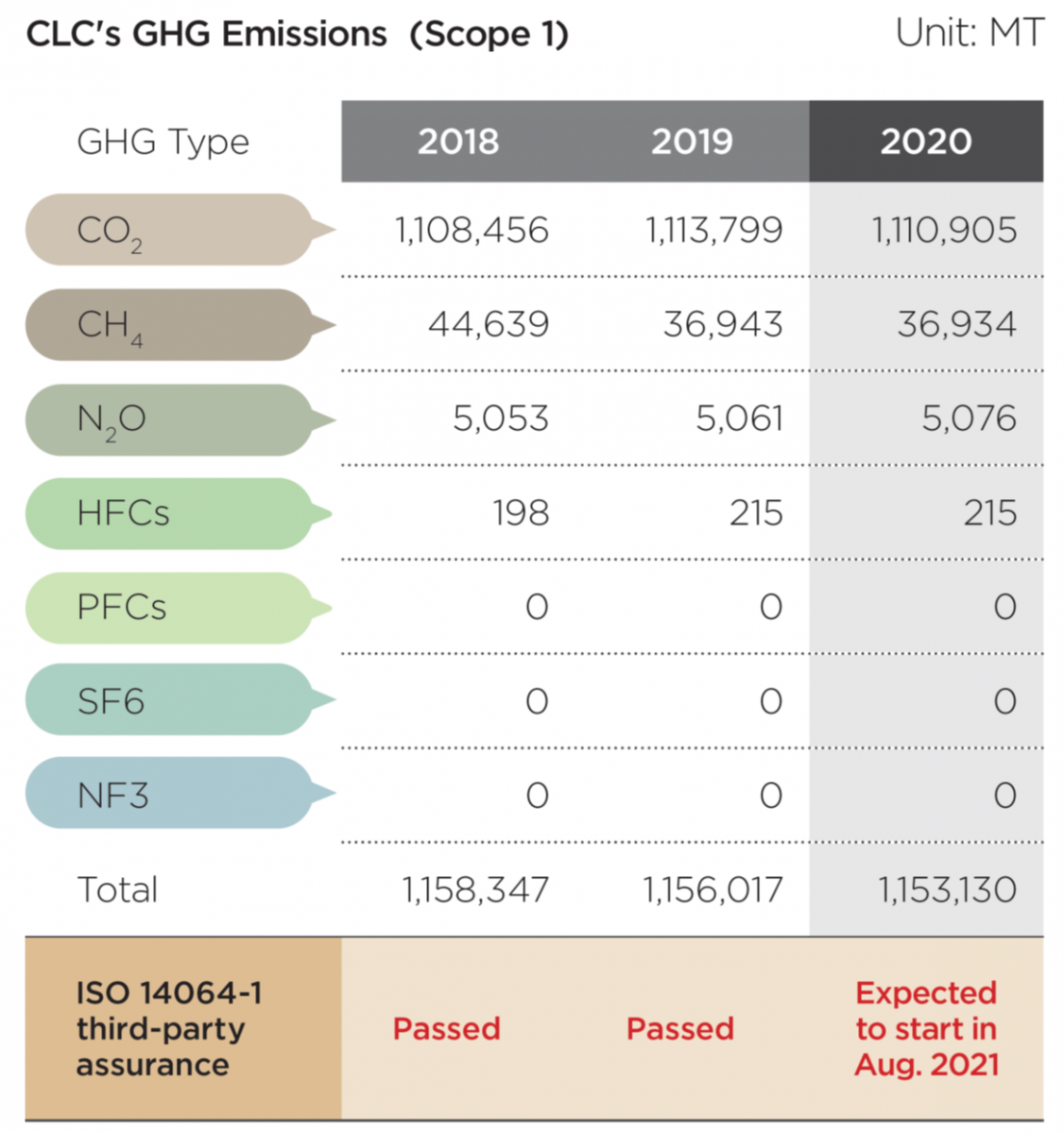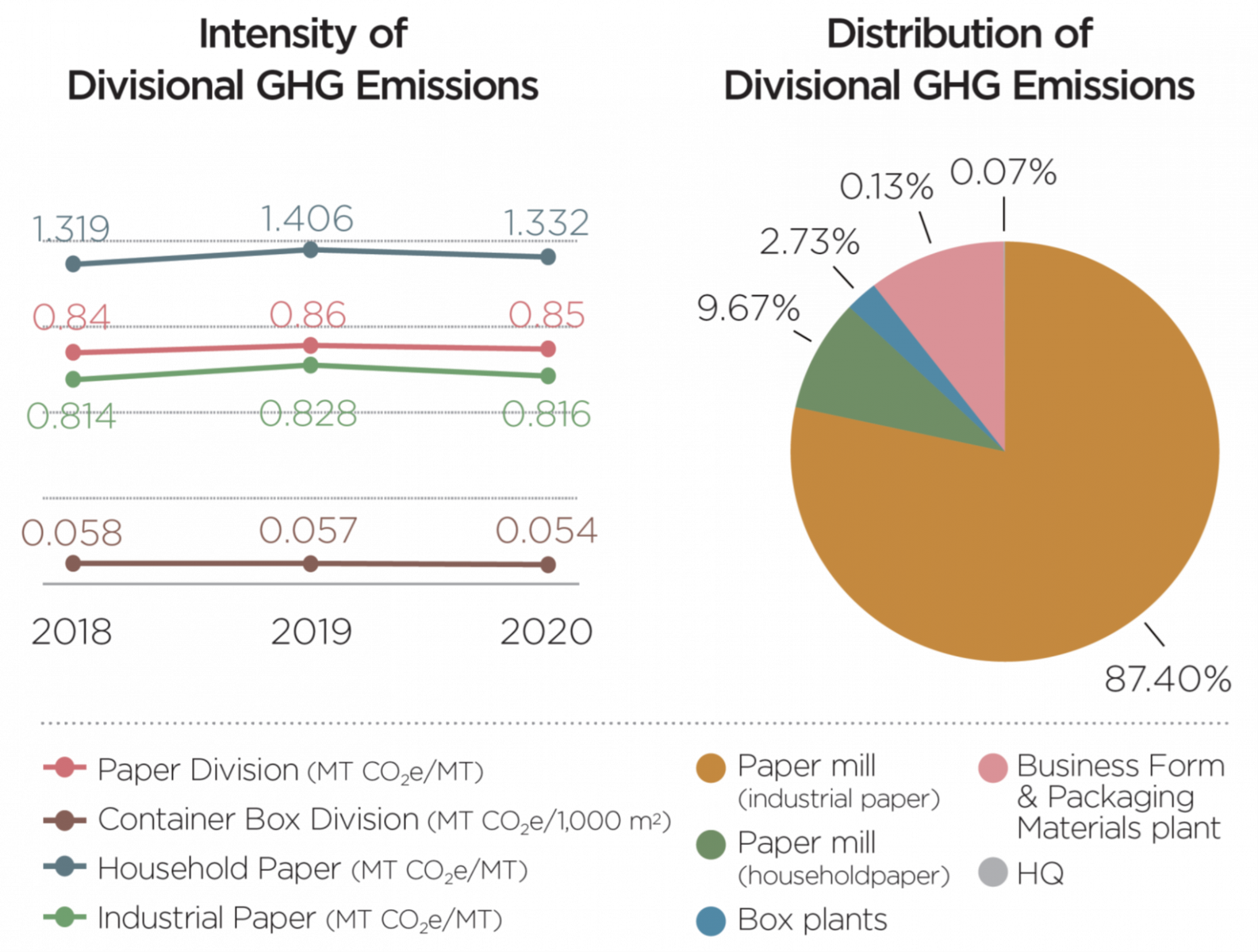 The steam system energy conservation project of the paper machine at Tayuan Mill was successfully registered to EPA's GHG offset program in 2020. We will continue to publish the monitoring reports and collect related data for third-party verification and apply for offset. In the future, we will continue to strive for the GHG offset quota from the EPA as the substantial reward for our efforts in carbon reduction.

In 2021, we will identify Type 3-6 indirect GHG emissions (including upstream logistics, purchased products, solid and liquid waste treatment, and leased assets) according to the new version of ISO 14064-1:2018 GHG inventory standard. The estimated total GHG Scope3 emissions is 256,832 tCO2e. (without third-party verification)

Develop low-carbon products
The first enterprise acquiring the "Carbon Reduction Label" for three household paper products in Taiwan
"Dandelion Hand Towel, Dandelion Toilet Tissue, and Andante Toilet Tissue" achieved highest 17.35% of carbon reduction, with 50 million packs annual sales, contributed GHG emission reduction by 1,445 tonnes of CO2e.
★The Winning Leader of Low-carbon Products from EPA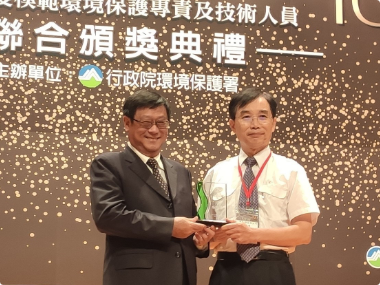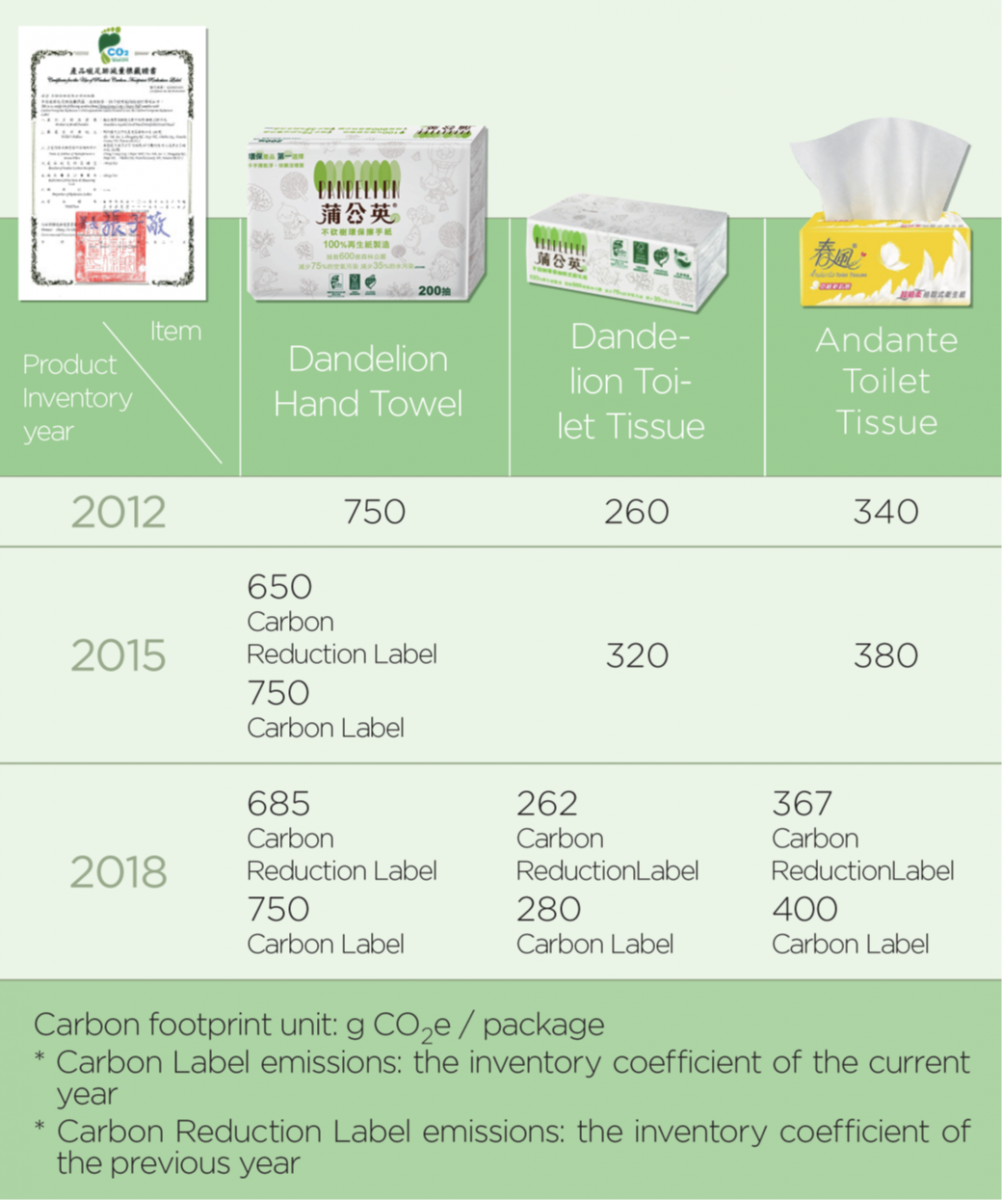 Environmental Management and Environmental Protection Expenditure
Facing global climate change and the trend of GHG emission regulations, we explicitly concluded the expenditure and investment in environmental protection and implemented the environmental accounting system in 2001 to optimize the management of environmental cost efficiency. In 2020, environmental protection investment and expenditures was approximately NT$1.46 billion, and the main expenditures are 16% for air pollution prevention and control, 31% for water pollution prevention and control, 26% for waste cleaning, and 27% for prevention and environmental management costs. In 2021, we will invest in about NT$1.5 billion as environmental expenditure on the anaerobic processing equipment of Houli Mill, the water tertiary filtration project of Chupei Mill, the SRF processing equipment of Chupei Mill, and the secondary dust collection project of Talin Plant.

Improvement Measures for Environmental Violations in 2020:
Establish an internal audit system for waste declaration.
Strengthen inspections of waste temporary storage plants.
Update the waste disposal plan in real time.
Vehicles shall be inspected for exhaust emissions in accordance with the regular period.
Environmental Management Verification
We have implemented and applied for certification of international management systems at all mills/plants, including the ISO 14001 environmental management system, ISO 14064-1 GHG inventory, and ISO 50001 energy management system to maximize environmental management performance.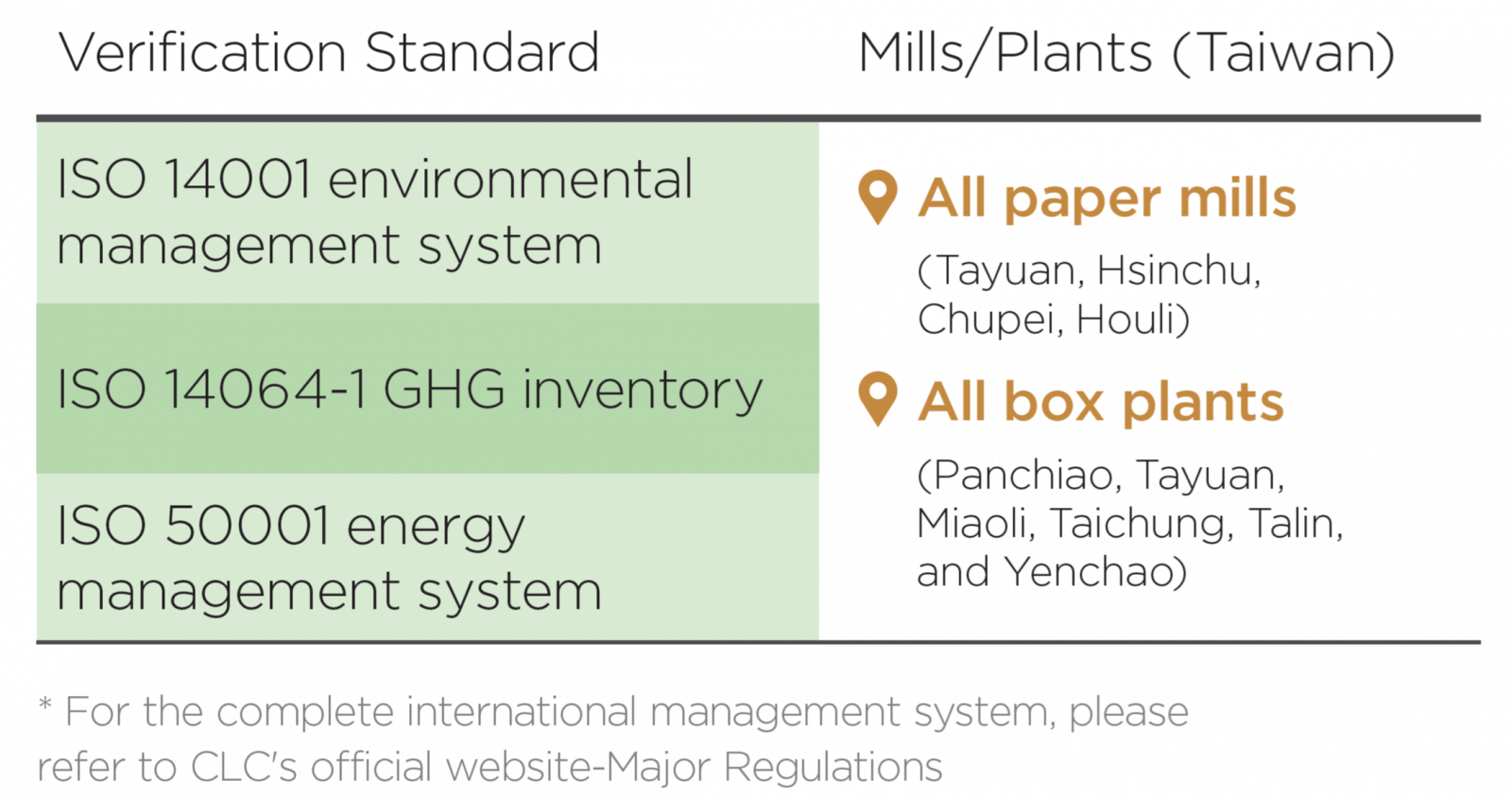 Environmental Fines
In 2020, there were 5 violations of our environmental protection laws and regulations, including 4 counts relating to the waste disposal plan, and 1 count to air pollution. Besides constantly improving management, we state the demand for compliance with various laws and regulations in the contracts and increase the frequency of internal self-inspection. In recent years, the amount of environmental fines has gradually reduced. The amount in 2020 reduced by 89% from NT$826,000 in 2019 to NT$89,000, suggesting that the improvements and internal controls have eventually borne fruit.