Healthy Workplace
●

Strategy: OH&S Policy: Total Participation, Zero Accident, Health and Safety
● Goals of
2030: Cultivate CLC's OH&S culture (Effective 2025, a 5% yearly growth for participants of OH&S promotion activities and talks)
CLC Safety and Health Policy

To care about employee health, we established the HSE Promotion Committee in 2000. In conformity to the management framework of ISO 45001 and through the well-established health management system, we draw up implementation plans each year in terms of employee healthcare and wellness promotion focusing on health protection, LOHAS, and physical and spiritual care by HSE personnel, factory nurses, and occupational specialists of CLC plants and mills to proceed with health management to build a healthy workplace, hoping to build a comprehensive health protection zone through wellness promotion and strengthening sanitation management against the pandemic and the personal health risk management of employees.
Supervise the plants and mills to hold the wellness promotion activities ,and set the goal of increasing by 5% every year after 2026
Through constantly organizing wellness promotion activities, optimizing healthcare projects, and implementing workplace health, we hope to pass the certification for the Badge of Accredited Healthy Workplace of the Ministry of Health and Welfare for all CLC plants and mills across Taiwan to become one of the health enterprises. We have also set the short-, medium-, and long-term goals for the participants of wellness promotion activities. There are 5,614 participants in 2022 (physical: 1,014 participants).
▸Strategic Goal:Total participation for safe and healthy workplace with zero accidents.
▸Management Approach:

(1)Total participation: Promote the OH&S management system, encourage employees to participate in training, enhance OH&S awareness to equip with the ability to identify hazard and assess and handle risks. Provide OH&S-related consultation and assistance channels, prevent occupational accidents through improvement proposals, and continuous advancement of the overall OH&S performance.

(2)Zero Accident: Insist on providing employees with a safe workplace and achieving zero accident in business operations and project implementation.

(3)Safety and Health: Promote self-management of workplace health, enhance protection and care for mental and physical health, arrange appropriate activities to enhance employee connection, enhance employees' environmental and social care, promote LOHAS, and enforce employee self-protection, mutual protecting, and supervision.



▸Management Process

:




The management and HQs Health, Safety & Environment Department shall assess and determine the direction of implementation according to the ISO/CNS 45001:2018 OH&S management system and authorize mill/plant management and HSE staff to implement the system.

→ Assess OH&S risks.
→ Propose improvement and control measures.
→ Department heads, industrial safety staff, mill/plant nurses, and occupational medicine specialist of each mill/plant implement health management.
We have established an OH&S Committee at each mill/plant with members including the site supervisor, OH&S personnel, and other related employees. Labor representatives are recommended by employees (proportion of labor representatives of each mill/plant is 31%–60%). Personnel include production workers, leaders, section chiefs, TPM executive secretary, and mill/plant nurses. The OH&S Committee holds a committee quarterly to discuss and promote mill/plant OH&S-related decisions and activities.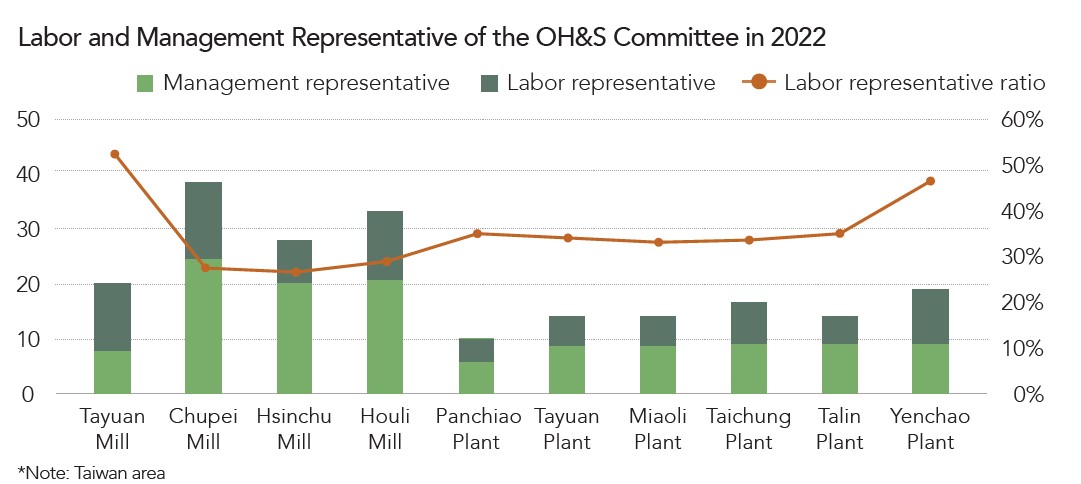 HSE Risk Assessment with a Total of 3,965 OH&S Proposals Were Received
We establish our HSE assessment criteria according to ISO 14001:2015 and ISO/CNS 45001:2018 management systems. Every year, they periodically assess the risks and opportunities to be addressed, propose improvement or control measures, and report them to the management review meeting for resolution, with the follow up by the mill/plant management representatives. Once equipment, SOP change, the corrective actions for an occupational accident or nonconformity are modified or occurred, hazard identification and assessment shall be performed again.

Near misses are important indicators of potential risks. We make the best use of the HSE management system to follow up near miss reports and corrective actions. To urge all mills/plants to improve OH&S performance, we introduce the improvement proposal system to encourage employees to propose improvement for operation safety or the work environment. In 2022, a total of 3,965 OH&S proposals were received, and mills/plants with outstanding HSE performance were rewarded at the year-end.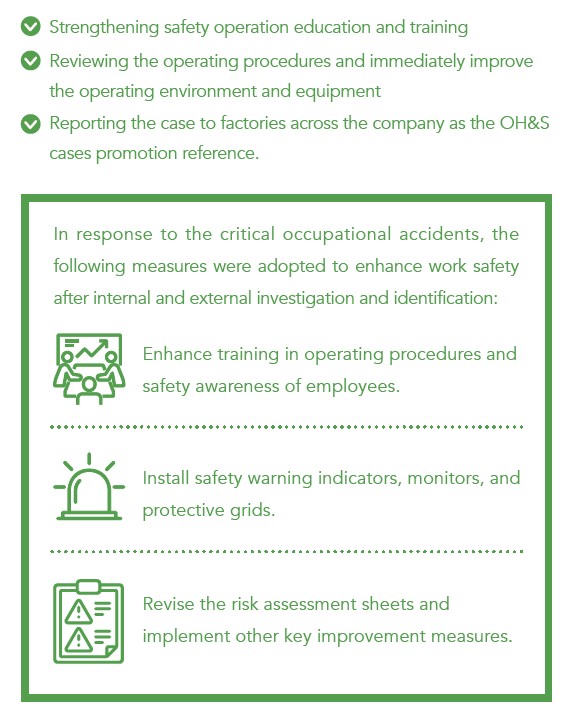 To keep our commitment to valuing the health and safety of all CLC partners, we also included the occupational accidents of non-CLC employee resident at CLC premises in our statistics. In 2022, no occupational accidents on non-CLC employee resident at CLC was reported.
OH&S Education and Training Management
For HSE personnel to timely capture the changes and trends in OH&S related laws and regulations, we have setting up our own OH&S education and training program and sending staffs to participate in conferences and talks from time to time. In addition, each mill/plant sends senior staffs familiar with OH&S-related laws and regulations and with practice experience to help other employees understand the spirit and focus of implementation of related laws and regulations together with external experts and scholars by means of seminars or on-site diagnosis to strengthen their awareness of hazards in the work environment and protect the health and safety of workers. Since 2021, we have created "Health Promotion Column" in CLC Journal (published every 2 month) and shared 11 articles related to cancer and stay away from cardiovascular diseases, etc. The average OH&S training for each employee in 2022 is about 23.5 hours.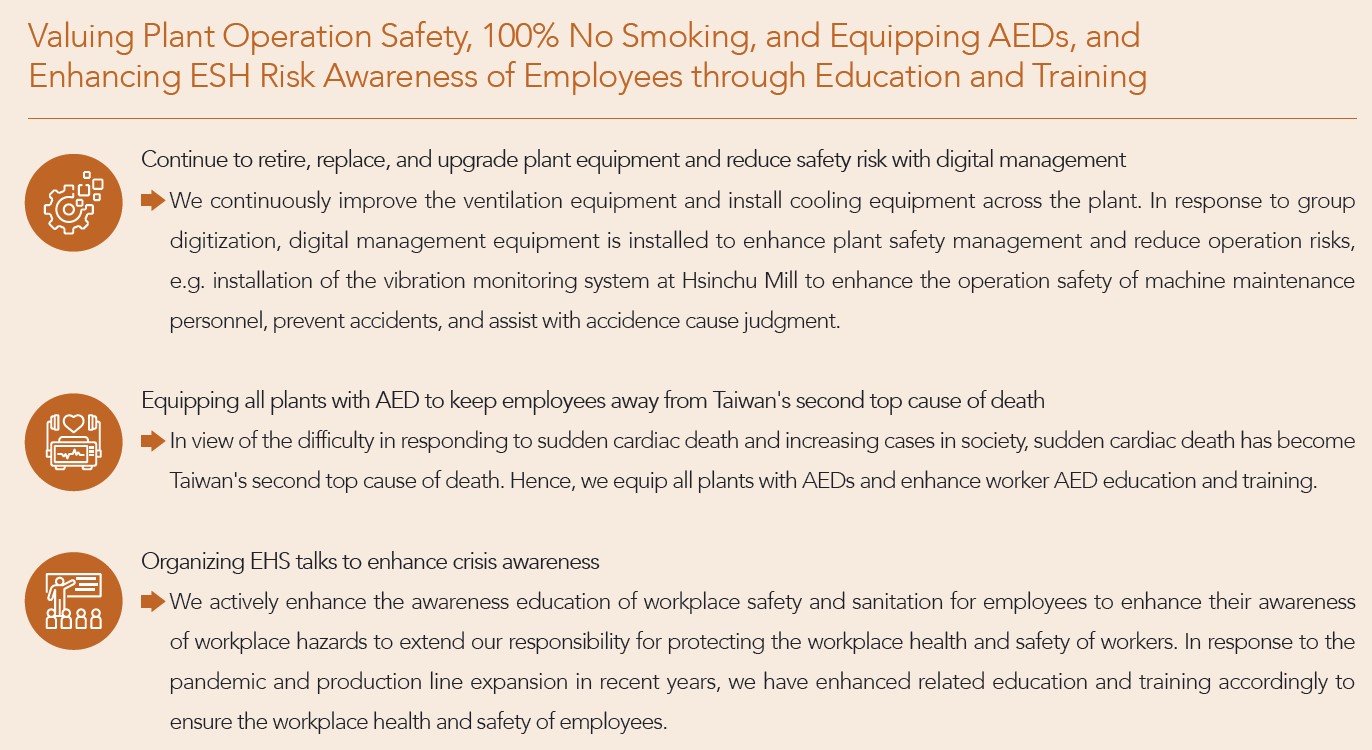 Enhancing the Management and Efficiency of Visits by External Units of HSE
We constantly optimize OH&S management, by enhancing the efficiency of HSE information transmission and the effectiveness of the HSE management system, we have established the HSE mill/ plant visit electronic response system to timely capture real-time data and improve the HSE effectiveness. There were 111 times of the HSE mill/plant visits.
Contractor Management
To enhance contractor HSE management, and maintain in-house operation safety and the safety of the contractor's employees and equipment, we have also established and implemented the Contractor HSE Management Regulations. In 2022, we arranged 1,524 hours of contractor education and training for 1,552 persons.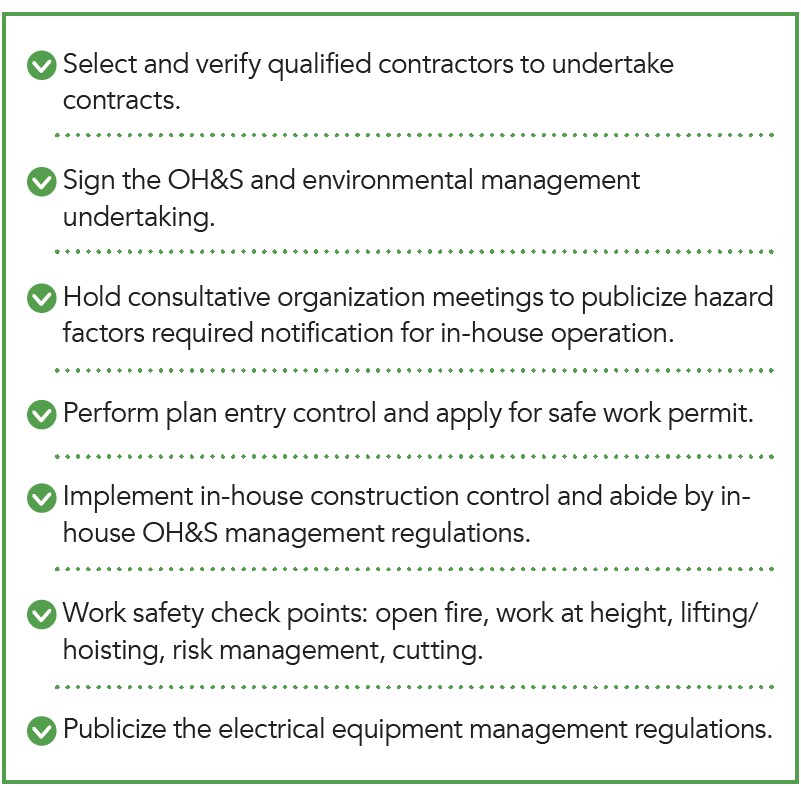 Cross-factory Audit/OH&S Rating
Every year, each mill/plant implements the annual HSE system targets and KPIs. Then, the HQs Health, Safety & Environment Department follow up their performance through periodic monitoring and measurement with the cross-factory audit and annual mill/plant assessment. The collected information is submitted to the management for the reference of decision-making and thereby set the targets and KPIs of the next year. In addition, though the HSE rating, we perform cross-factory and cross-division learning and exchange to establish a better OH&S management system. In 2022, we performed cross-factory OH&S audits on Corrugated Container Division at 6 mills and conducted annual OH&S rating on Containerboard Division, Household Products at 4 mills/plants.
As COVID-19 slowed and the epidemic control relaxed, we conducted the EHS inspection of paper mill and box plant in Vietnam in 2022 Q4. The inspection covered activities regarding onsite 5S management, onsite environmental management, and onsite ESH management and the operation of management systems. From 2023, we will integrate the ESH management of all overseas plants for cross-plant audit to enhance occupational safety management.
Health at CLC: CLC Health Management System Platform & LINE Health Group
We developed the "CLC Health Management Platform" to replace traditional paper data, hoping to keep track on employees in the health highrisk group by online. Then, professional in-house nurses and occupational medical specialists will analyze their data and give advice on health. The platform has been completed in 2021 and optimized referring to the sheets and software used to manage and analzye.
6 Health Instruction and Management Measures, Promoting Workplace Health
Heath Inspection

We value the mental and physical health of employees. Every new employee must submit a physical examination report, and active employees must take the annual health checkup. For employees working in special work environments, we provide special health checkups (e.g. noise, dust, and ionized radiation examination). Cases requiring management and follow-up as determined by the physician will be followed up according to the protection plan and provided with sufficient information for further medical attention.
⇒In 2022, a total of 3,559 employees took the general health checkup, with an achievement rate of 95.2%; and 1,184 employees took the special health checkup. For employees with abnormal results, the Company also actively provided health guidance and related consultations by medical staff.
⇒Has hired Dr. Guan Tang Li as medical director since 2021 and provided severe illness, health care and other related issues consultation every week.

Improving Operation Environment

Besides improving the ventilation equipment, we installed cooling equipment at focused work zones to provide employees with a comfortable work environment.

Health Promotion

Safeguarding Respiratory Tract through Advance Deployment!
Non-Smoking Workplace and Smoking Cessation Class from 2020

Non-Smoking Workplace

We promote various health management and health promotion activities in order to build a happy, healthy workplace.

In 2022, we organized a total of 36 health promotion activities and talks with 5,614 participants. Due to the epidemic situation and the whole group digital management, we also opened online courses and published article in CLC journal to share the new knowledge in 2021.

Health Protection

In conformity with the overwork, maternal, ergonomic, workplace violence, and respiratory protection issues as stated in the Occupational Safety and Health Act, we arrange stress relief talks, core muscles exercise, and ergonomic hazards prevention talks or on-site instructions to protect the health of employees.

Epidemic Prevention

We have established the "Guidelines for Epidemic Control"; built and implemented the epidemic investigation, plant/mill access health management, self-imposed health management systems, and other digital systems to implement the epidemic prevention work.