Care for Children
Caring for education, welfare and growth of children and teens,
we cooperate with NGOs to enrich children's spirits and vision of life.
We care for children over time through the Cheng Loong Children's Care Foundation in collaboration with NGOs and social welfare organizations. In addition to the paper library project, we also provide scholarships for disadvantaged, family fragmentation, lunch subsidy and after-school care expenses to assist students near the factory. To enlarge the concern with kids, we cooperate with " Taiwan Fund for Children and Families" and "Seed of Love Education Foundation". In 2022, we continued to support the children with a total of NT$3.26 million of scholarships (included 38 schools, covered the students from elementary to college) were awarded.and accumulatively help over 10,000 children, and award over NT$20 million of scholarships.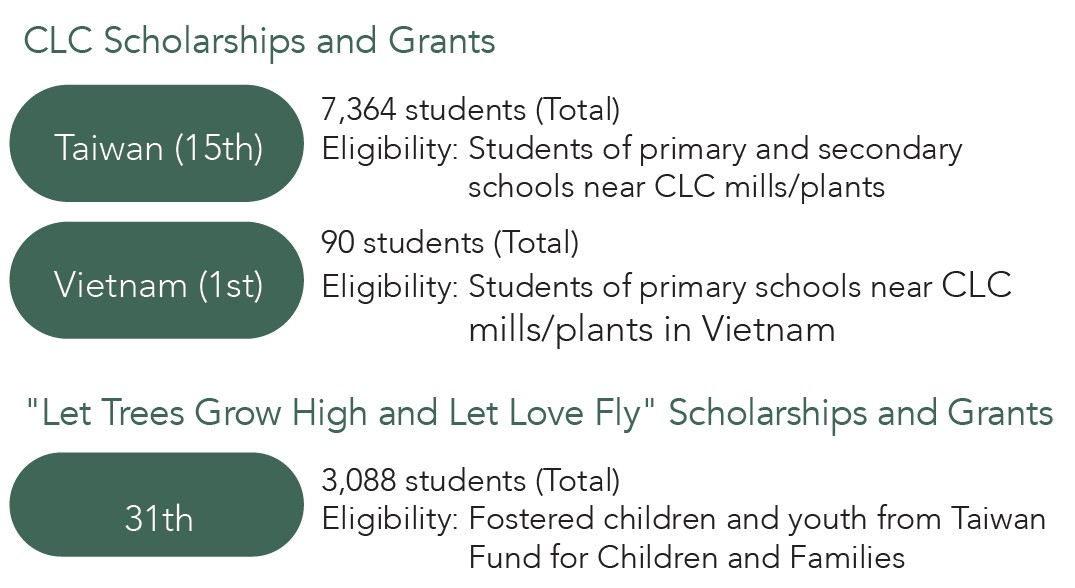 We Care! CLC Care Scholarship
CLC established the "CLC Care Scholarship" in 2015 providing scholarships for disadvantaged in elementary schools near the CLC factories so that the students with excellent grades or special talents can also continue to study hard under the encouragement. Since 2016, we expanded to more school and added scholarships for the junior high school in 2018 to benefit more students. Furthermore, we founded and expanded the elementary school scholarships overseas to Vietnam in 2022 to let unceasing love without border restrictions.
"Let Trees Grow High and Let Love Fly" Scholarships and Grants
CLC collaborate with "Taiwan Fund for Children and Families" to promote "Let Trees Grow High and Let Love Fly" project since 2007, awarding scholarships to foster students with excellent grades and behavior in elementary, junior and high school, recognizing the hard work of foster families. Volunteers from CLC also plan every awarding ceremony and activities for parent and child carefully, helping the participants to enrich knowledge and good memories.