Waste to Resource
● Strategy: Increase waste-to-resource channels and increase waste-to-resource ratio annually toward zero waste.
● Goals of 2030: Waste-to-resource ratio up to 92%
Believing that there is no waste by misplaced resources, to achieve sustainable resource use, we adopt waste management in terms of following four approaches: reduction at the source, reuse, recycling, and flow management. The waste that the Company produces is general industrial waste without any hazard.

Every year, we recycle a large quantity of recovered paper and implement waste-to-resource on the impurities contained in wastepaper based on the circular economy model and achieve the zero waste vision. In 2020, we recycled 283,880 MT of waste to achieve waste-to-resource ratio up to 85.1%, with an annual growth by 4.2%. To make a step forward toward the 92% waste-to-resource target in 2030, we will start the operation of the high-performance biomass CFB boiler system at Chupei Mill in 2021 to reuse process residual of all CLC mills in Taiwan to significantly increase waste recycling.

To accurately capture the flow of waste and ensure all waste is legally and properly disposed of or recycled, besides carefully selecting waste disposal and recycling contractors and periodically retrieving and comparing the actual quantity shipping to the mill/plant and the recycling quality at the plant, we also enhance contractor audits, including requesting contractors to equip the GPS on all trucks to trace and management the flow of waste.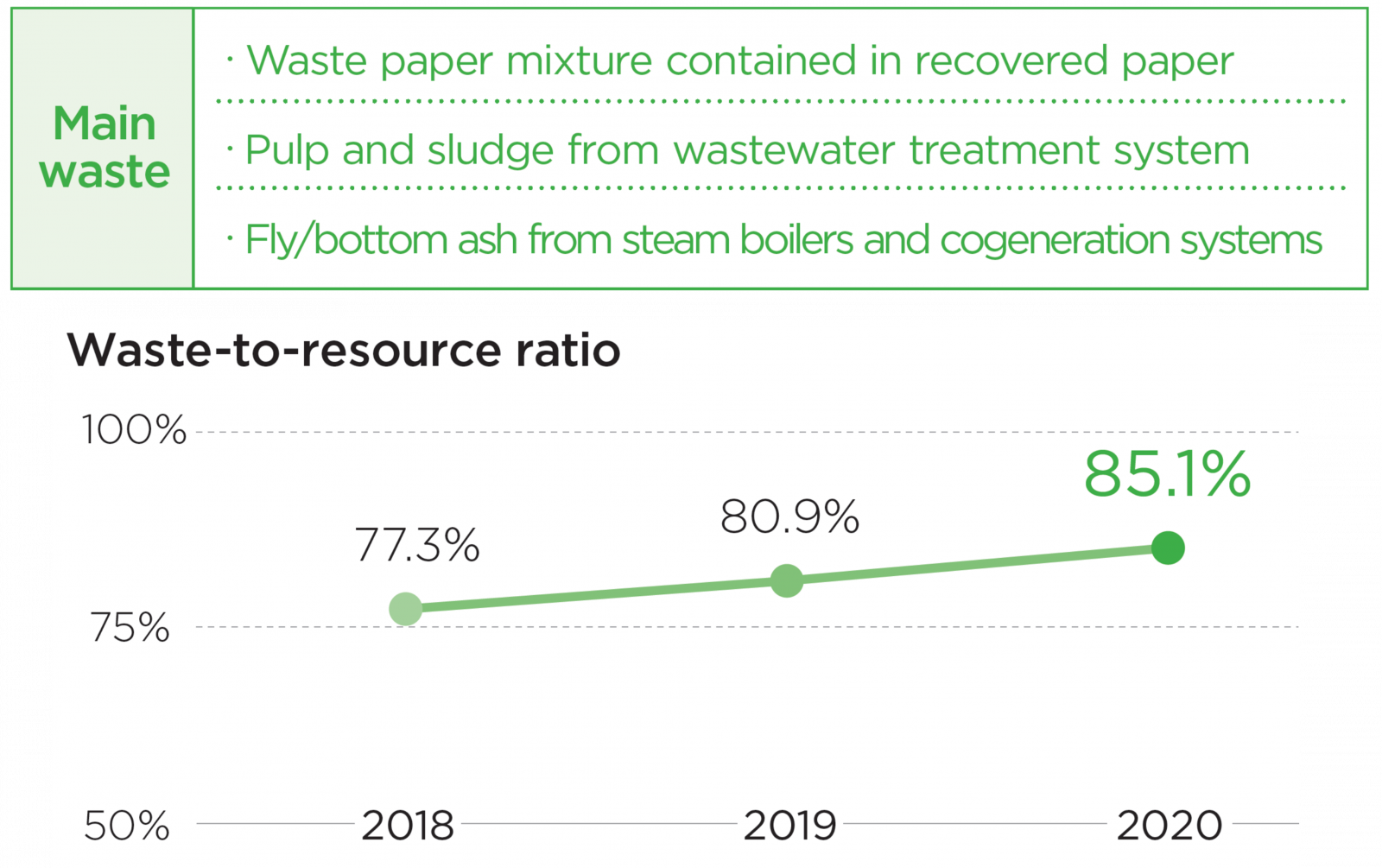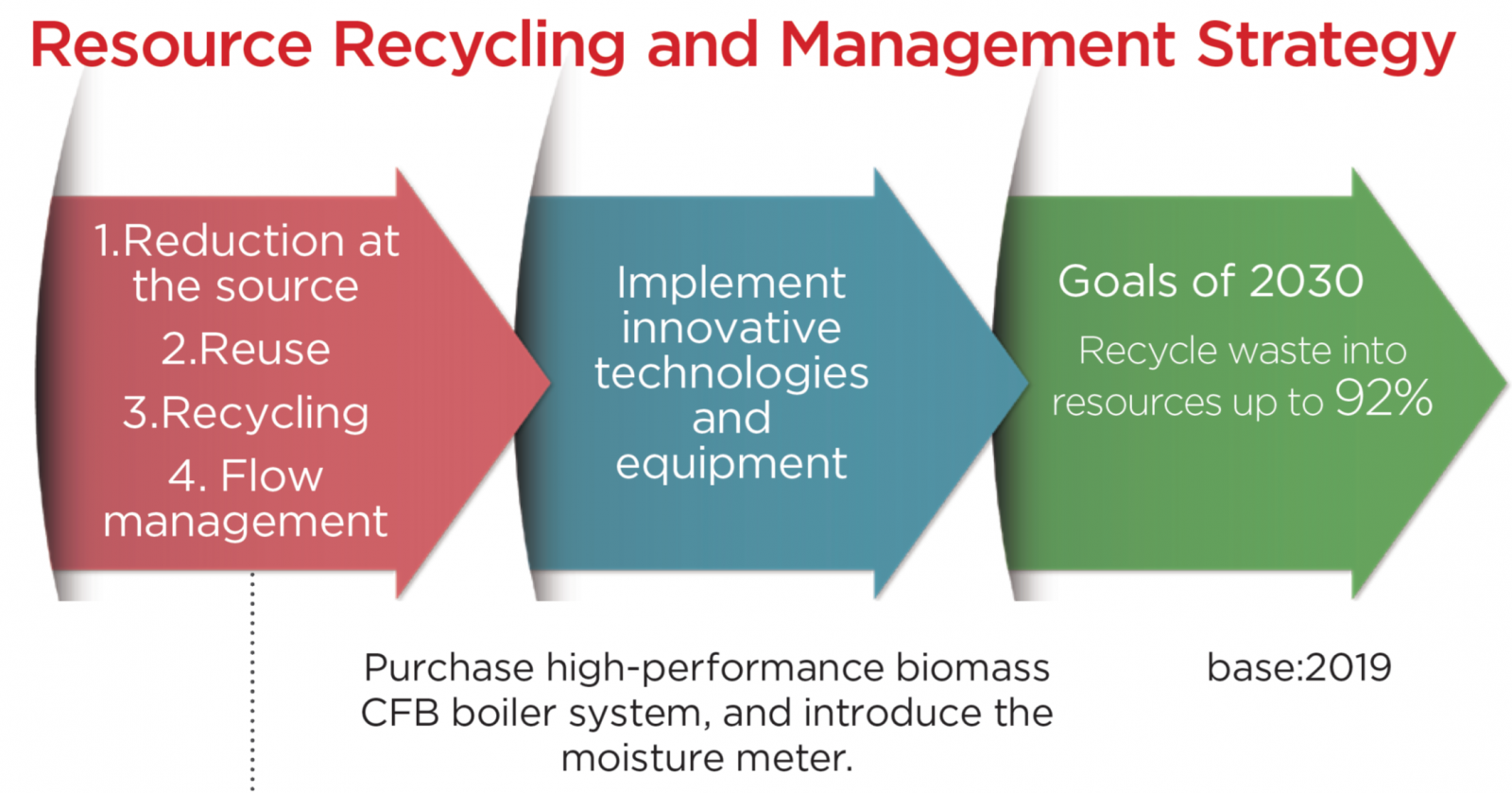 Waste Disposal Innovation Project
1. Waste-to-Energy! To support the national energy conservation and carbon reduction policy, we produced solid recovered fuel (SRF) with residual process material from papermaking to prevent the environmental load from landfill and reduce burning coal, electricity dependency, and GHG emissions. In 2021, we will introduce Taiwan's largest high-performance biomass CFB boiler system, with a monthly processing capacity of 14,000 MT toward the 92% waste-to-fuel target in 2030. Combining the 4 existing cogeneration system, we focus on waste-to-energy for renewable energy development.

2. Introduce the first moisture meter in Taiwan to strictly inspect with residue moisture content.

3. Guide recycling contractors to engage in transformation and upgrading, promote correct waste sorting and the right use for proper materials to reduce residual waste from 10–13% to below 6%.

4. Innovative recycle for waste food paper container: In support of the government's waste food paper container recycling policy, we became the first paper maker completely recycling food paper containers to realize zero waste for food paper containers.

※For more innovative solutions, please refer to the Special Report::
• Innovation cycle for food paper container
• Green energy transform and turning waste into energy
• Supply chain upgrading program

SRF (Solid recovered fuel): Transfer waste for energy
On November 27, 2020, we promoted the SRF in collaboration with the EPA and other enterprises. We support government policies to maximize waste-to-resource.