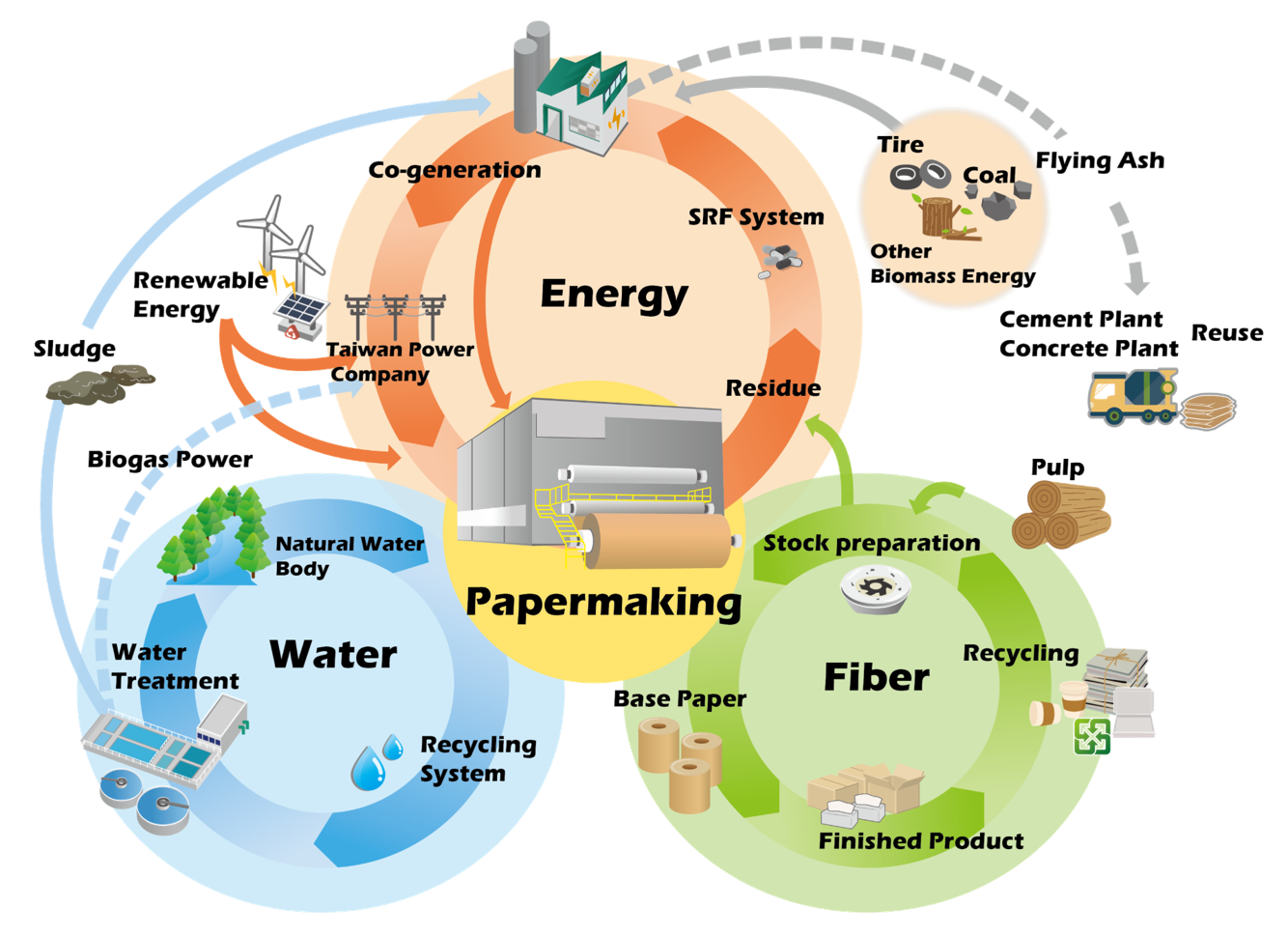 CLC Energy & Resource Integration
CLC builds the "Energy & Resource Integration System" with the 3-in-1 recycling model of products (fiber), energy, and water. Furthermore, the resource recycling loop is established via the cross-value chain and cross-industry operation to maximize the benefit of 3Rs (Reduce, Reuse, Recycle) and allows us to actively achieve the goal of zero-waste.
Implementing sustainable business operations and abiding by laws and regulations related environmental protection, the Company continues to increase environmental protection investment and expenditures. Through process improvement and promotion of the integrated application of energy and resources, the productivity and efficiency of resources are improved, while reducing the impact of the production process on the environment. In addition, CLC is committed to corporate's manufacturing and social responsibility by setting short-, medium- and long-term CSR goals.
3-in-1 Recycling Mode
Product recycling
Goals of 2030: Recovered paper utilization rate 97% (Industrial paper)
The paper industry is the most environmentally friendly industrial chain. First, the industrial paper mill utilizes recovered paper to produce industrial paper which is manufactured into a carton by a container box plant. After that, the carton is used for packaging and shipping purposes. It is then recycled via the recycling system and used by the paper mill again. This is the process forming the cradle-to-cradle cycle.
Energy recycling
Goals of 2030: Alternative fuel ratio 18%
Waste-to-resource ratio 92%
Committed to energy integration and application in order to improve energy efficiency, continue to invest in cogeneration of steam-electricity, develop wind power and biogas power generation, promote the recycling of process residual materials and increase the ratio of alternative fuels. Through cross-industry cooperation, the fly/bottom ash will be reused as the admixture of CLSM and cement material.
Water recycling
Goals of 2030: Unit product water consumption -1% yearly (Paper Division)
With PDCA management, cross-factory communication, implementation of process water saving and water use classification management, we improve production water reuse efficiency. The safe and compliant effluent provides stable water sources such as streams and wetlands, nurtures biodiversity, and sequesters carbon to delay the greenhouse impact.


CLC 2020 Energy & Resource Integration Achievements and Goals
Item
2020 achievements
Goals of 2030
Recovered Paper
1. Recycled and reused 1.72 million tons of recovered paper, the recovered paper utilization rate reached 92.% (higher than average rate 75% in Taiwan). Recovered paper utilization rate (Industrial Paper) is 97%.

2. Chupei Mill use 15.5 k MT of food paper container / liminated paper, and reduced carbon emissions by 89 k MT.
Recovered Paper Utilization Rate *Industrial Paper > 97%
Alternative Fuel
CLC makes boilers more efficient by increasing the alternative fuel ratio to 7.23%, replacing 40,693 MT coal. We also make use of the regional advantages and introduce wind and solar power generation systems. Acquired 9,309 RECs in accumulation (2017-2020).
Alternative fuel ratio to 18%
Waste to Resources
Amount of waste-to-resource reached 283,880 MT at 85.1%, up by 4.2% YoY. Implement waste-to-resource revitalization and regeneration and cultivate channels; promoted right uses for proper materials to reduce residual waste from 10–13% to below 6%.
Waste to resources ratio to 92%
GHG Emissions
Identify climate opportunities and risks with the TCFD framework, implement energy conservation and carbon reduction projects and applicate for GHG offset to EPA of Tayuan Mill. Total GHG emission reduced by 0.57% YoY.
GHG Emission (Base Year: 2017) -5%
Water Management
Paper Division reduced unit product water consumption by -1.6%. Industrai Paper Division reduced unit product water consumption by -2.56%. Implement water management project: Purchased fiber recovery machine, secondary IC anaerobic treatment equipment etc.
Unit Product Water Consumption *Paper Division (Base Year: 2019) -10% (Total)