●

Strategy: Total Participation, Zero Accident, Health and Safety


●

Goals of 2030: Cultivate CLC's OH&S culture (Effective 2025, a 5% yearly growth for participants of OH&S promotion activities and talks).
CLC Safety and Health Policy
We believe that valuing the safety and health of every employee is the only way to realize the vision of sustainable business development.
▸Strategic goal:Total participation for safe and healthy workplace with zero accidents.
▸Management Approach:
(1)Total participation:Promote the OH&S management system, encourage employees to participate in training, enhance OH&S awareness to equip with the ability to identify hazard and assess and handle risks. Provide OH&S-related consultation and assistance channels, prevent occupational accidents through improvement proposals, and continuous advancement of the overall OH&S performance.
(2)Zero Accident:Insist on providing employees with a safe workplace and achieving zero accident in business operations and project implementation.
(3)Safety and Health:Promote self-management of workplace health, enhance protection and care for mental and physical health, arrange appropriate activities to enhance employee connection, enhance employees' environmental and social care, promote LOHAS, and enforce employee self-protection, mutual protecting, and supervision.
▸Management Process
The management and HQs Health, Safety & Environment Department shall assess and determine the direction of implementation according to the ISO/CNS 45001:2018 OH&S management system and authorize mill/plant management and ESH staff to implement the system.
→Assess OH&S risks.
→Propose improvement and control measures.
→Department heads, industrial safety staff, mill/plant nurses, and occupational medicine specialist of each mill/plant implement health management.
Employee care
CLC value care and relevant measures for employees. In addition to annual health examinations, we encourage employees to implement self-health management.
| | |
| --- | --- |
| Annual health examination | Every employee enjoys a free labor health examination every year. For employees engaging in specifically hazardous work, we arrange special health examinations for them. |
| Health examination discount | By signing discount contracts with many medical-center-level or teaching-hospital-level health examination institutions, we enable employees and their dependents to receive in-depth health examinations based on individual needs at a preferential price. |
| Health management | We organize stop smoking classes and weight loss classes and invite professional health education organizations to give health talks on hypertension, hyperglycemia, hyperlipidemia, cardiovascular diseases, and liver diseases. |
Family and life
"Family" is the ultimate support of employees and the driving force for employees to work hard. Therefore, we extend our scope of employee care to their family by planning various benefits:
| | |
| --- | --- |
| Accident and illness assistance | We provide medical allowances for employees' family in hospitalization or severe injuries or illness and offer assistance for their family expense and after they have an accident. |
| Employee travel | Every year we provide allowances for employee group travel, including the family of employees. |
| Parental Care | NT$10,000 for each newborn. If both parents are CLC employees, they can apply for the allowance individually. |
ESH Risk Assessment
We establish our ESH assessment criteria according to ISO 14001:2015 and ISO/CNS 45001:2018 management systems. The unit heads and qualified personnel of each mill/plant shall plan risk identification and assessment, and ESH personnel shall gather the data of the entire mill/plant. Every year, they periodically assess the risks and opportunities to be addressed, propose improvement or control measures, and report them to the management review meeting for resolution, with the follow up by the mill/plant management representatives. Once equipment, SOP change, the corrective actions for an occupational accident or nonconformity are modified or occurred, hazard identification and assessment shall be performed again.

In 2020, 9 employee disability injuries were reported, including 1 serious occupational accident, and pinch hazard was the main type of occupational injury; no occupational disease was reported. For that serious occupational accident, we immediately formed a response team to implement various improvement and handling measures, including revising the Raw Paper Warehousing SOP, adding material stacking clearance sign, revising forklift self-inspection items, adding guard rails to automated production lines, and increasing IPQC anomaly reports.
OH&S Education and Training Management
For ESH personnel to timely capture the changes in OH&S related laws and regulations, we have setting up our own OH&S education and training program and sending staff to participate in conferences and talks on OH&S-related topics from time to time. In addition, each mill/plant sends senior staff familiar with OH&S-related laws and regulations and with practice experience to help other employees understand the spirit and focus of implementation of related laws and regulations together with external experts and scholars by means of seminars or on-site diagnosis to strengthen their awareness of hazards in the work environment and protect the health and safety of workers. In 2020, the average OH&S training for each employee is about 19 hours.


Enhancing the Management and Efficiency of Visits by External Units of ESH
We constantly optimize OH&S management, by enhancing the efficiency of ESH information transmission and the effectiveness of the ESH management system, we have established the ESH mill/plant visit electronic response system to timely capture real-time data and improve the ESH effectiveness.
Cross-factory Audit/OH&S Rating
Every year, each mill/plant implements the annual ESH system targets and KPIs. Then, the HQs Environment, Health & Safety Department follow up their performance through periodic monitoring and measurement with the cross-factory audit and annual mill/plant assessment. The collected information is submitted to the management for the reference of decision-making and thereby set the targets and KPIs of the next year. Through a dynamic management process, we urge the management to concern about defects and improvements to provide the best ESH workplace for employees through a virtuous circle. In addition, though the ESH rating, we perform cross-factory and cross- division learning and exchange to establish a better OH&S management system. In 2020, we performed cross-factory OH&S audits on 4 mills and conducted annual OH&S rating at 10 mills/ plants
Contractor Management
To enhance contractor ESH management, and maintain inhouse operation safety and the safety of the contractor's employees and equipment, we have also established and implemented the Contractor ESH Management Regulations. In 2020, we arranged 5,042 hours of contractor education and training for 18,978 persons.
Promoting Workplace Health
2020 OH&S promotion activities with 1,447 participants

To prevent employee from health hazards, maintain employee health, effective manage employee health data, and ensure employee OH&S, we have established five health instruction and management measures: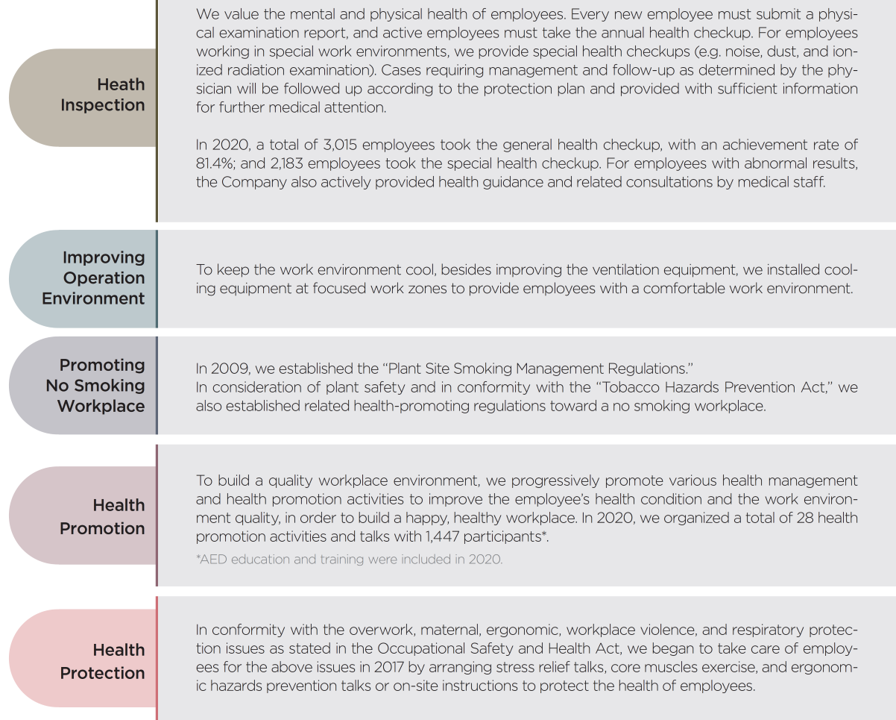 Achievements in Workplace Health Promotion Seven Mills/Plants Pass MOHW "Healthy Workplace Certification".
Health at CLC: CLC Health Management System Platform & LINE Health Group

To constantly pursue a healthy workplace, we have independently developed the "CLC Health Management Platform" to replace traditional paper data, hoping to keep track on employees in the health high-risk group through online review of their health data. Then, professional in-house nurses and occupational medical specialists will analyze their data and give advice on health indicators requiring improvement. In 2020, 60% of the platform was completed and testing is in progress for optimization. The system is expected to be completed in 2021. We also established the CLC Medical_LINE@Health Group in early 2020 for nurse editors to provide real-time health and pharmaceutical information and health consultation services.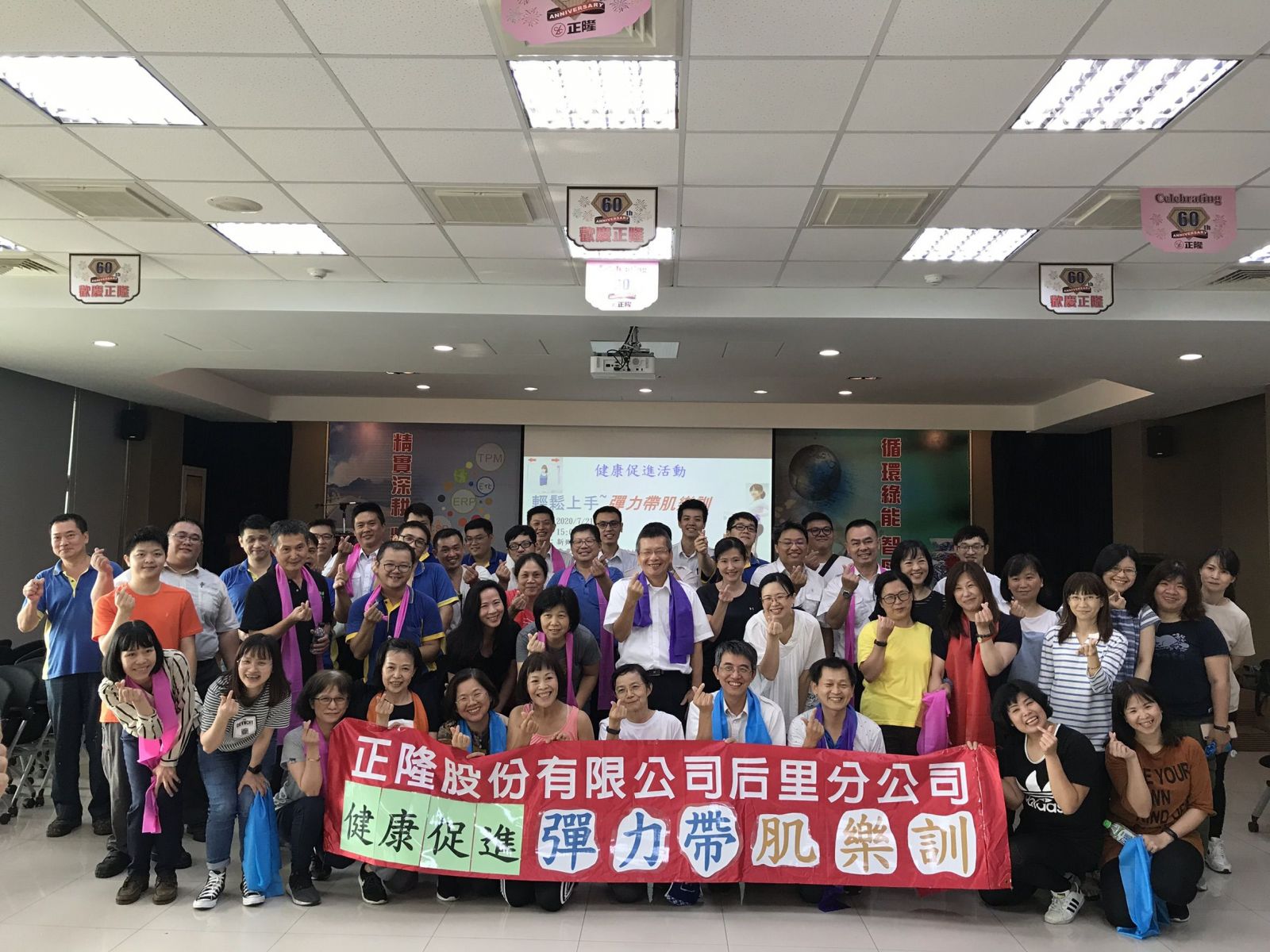 Ultimate Guiding Principle for Workplace Health and Safety

Concerns for industrial safety
Peace for employees
No worries for family
Safety is the duty of every employee as well as the responsibility of each supervisor.
All workplace injuries and diseases can be avoided.
Employee work safety is the most important part of the safety plan.
All factors causing work hazard exposures should be eliminated.
Employees shall be trained to abide by the safe work procedures.
It is necessary to audit continuously and make immediate improvement and corrections.