Emergency Relief
Starting a virtuous circle in society by helping the vulnerable and reaching out to the weak.

Cheng Huotien Charity Foundation
To appreciate Taiwanese society for providing us with a sound foundation for thriving and to commemorate the fraternal and merciful spirit of CLC Founder Huo-tien Cheng, CLC Advisor Cheng-loong Cheng founded the Cheng Huotien Charity Foundation in 1993 dedicated to promote emergency relief, medical aid, senior welfare, and relief for illness and disabilities.
To expand the scope of service, the Foundation actively launches cooperation with other charities and social welfare groups. Since operations began in 1993, the Foundation has made donations to nearly 2,500 cases, including individuals and groups. Including the typhoon Herb Flood, Chichi Quake, 2008 Sichuan Earthquake of China, typhoon Morakot Flood, 2011 Tohoku Earthquake and Tsunami of Japan, and 2014 Kaohsiung Gas Explosions, CLC donated over NT$100 million for emergency relief, hoping to reach out to those who are in need of help.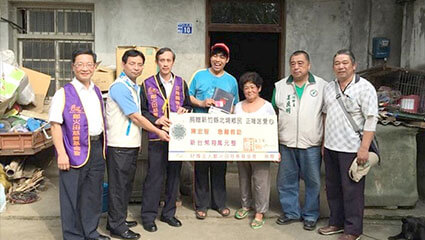 Warmth for the vulnerable
In 2009 we began sponsoring the "Warmth in Cold Winter: Care for Vulnerable Families" organized by the Taiwan Fund for Children and Families. Over the past seven years, the activity has benefited over 30,000 families. When cold winter comes every year, we give them warmth. We also continuously donate household papers and diapers to Huashan Social Welfare Foundation, Genesis Social Welfare Foundation, and TFCFF Goods and Food Bank for vulnerable groups. Furthermore, we constantly provide scholarships and nutritious lunch fees to students from poor families in the neighborhood of CLC mills and plants.
For vulnerable families and groups in the neighborhood of CLC mills and plants, employees also bring them Spring Festival lucky money, lunar New Year's Eve dinner, rice dumplings, and moon cakes to extend care to old age and families living in poverty. We hope that this intention to disseminate the fraternity and care of CLC employees can turn into real action for the care of the vulnerable.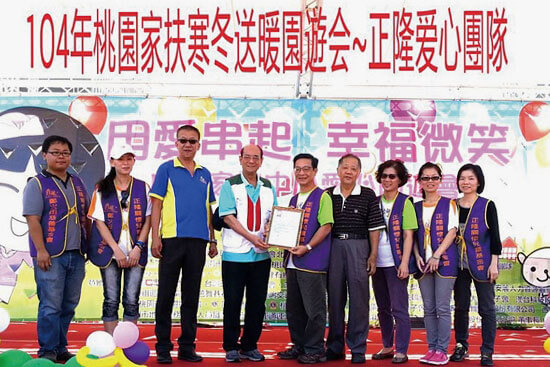 Household Paper Donations under Warmth in Cold Winter Over the Years
| | |
| --- | --- |
| Year | Q'ty (pack) |
| 2009 | 1,000 |
| 2010 | 4,028 |
| 2011 | 5,000 |
| 2012 | 5,504 |
| 2013 | 5,600 |
| | |
| --- | --- |
| Year | Q'ty (pack) |
| 2014 | 5,600 |
| 2015 | 6,520 |
| 2016 | 6,520 |
| 2017 | 7,000 |
| 2018 | 7,456 |
End Poverty : Experiencing poverty through umbrella OEM
There are many families living in poverty, and nearly 60% of their monthly income is less than NT$20,000. The education attainment of many parents is below junior high school, and many parents may suffer from illness and are difficult to find a job. Therefore, they are unemployed for a long time or can only do temporary work. By experiencing the hardship of low income families through sewing umbrellas, CLC volunteers and family put themselves in the shoes of families living in poverty to help the weak and vulnerable and thereby draw public attention to join the "end poverty" campaign.